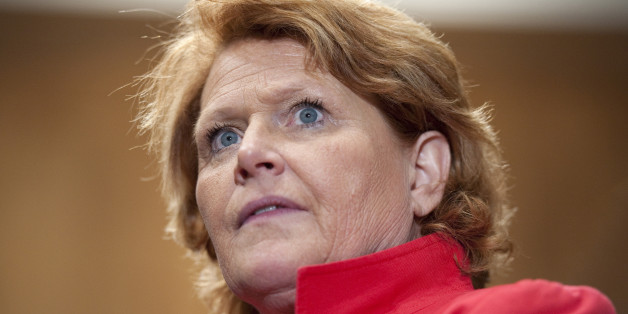 WASHINGTON –- Senate supporters of the Keystone XL pipeline say they think they have enough votes to pass a bill that would force the approval of the controversial project. A group of 56 senators -- all 45 Republicans plus 11 Democrats –- introduced legislation on Thursday that would bypass the Obama administration and grant approval for the pipeline.
Sens. John Hoeven (R-N.D.) and Mary Landrieu (D-La.) introduced the bill on Thursday. Democrats Heidi Heitkamp (D-N.D.), Mark Begich (D-Alaska), Mark Pryor (D-Ark.), Joe Manchin (D-W.Va.), Joe Donnelly (D-Ind.), Claire McCaskill (D-Mo.), Mark Warner (D-Va.), Jon Tester (D-Mont.), John Walsh (D-Mont.), and Kay Hagan (D-N.C.) are cosponsoring it.
Because it crosses an international border, the decision on the pipeline falls under the authority of the State Department. The State Department announced another delay on a decision last month in response to a court decision that invalidated the pipeline's proposed route through Nebraska, saying that it would wait to decide until there is more clarity on where the pipeline will ultimately run. The legislation would grant approval to "any subsequent revision to the pipeline route" in Nebraska, without requiring further environmental analysis.
"We continue to hear delay, delay, delay from the Administration about the Keystone XL pipeline. I'm beyond sick of it," Heitkamp said in a statement Thursday. "We have strong bipartisan support in the Senate for this project –- and I'm proud to have recruited support from 10 other Democrats last month. Now, all of those Democrats also signed onto this bill that we crafted to fully approve the construction of the Keystone pipeline. If the Administration isn't going to make a decision on this project after more than five years, then we'll make it for them. End of story."
Senate Majority Leader Harry Reid (D-Nev.), who has personally opposed the pipeline, signaled earlier this week that he is open to the possibility of a vote on the measure as a way to move energy efficiency legislation that has been stalled for months, largely due to disputes over what amendments could be attached to it.
Hoeven said Thursday that the details are still being worked out. "Right now we're talking about five amendments from each side," he said. "It could include Keystone as one of those amendments or as a standalone."
The bill's supporters say they're confident that when it does go up for a vote, it will pass in the Senate. A non-binding resolution in support of the pipeline passed the Senate in March 2013 by a 62 to 37 margin. The legislation would pass easily in the Republican-controlled House.
If the bill passes as a standalone, the White House would likely veto it. "Our position hasn't changed, which is that this has to be run by the book," White House press secretary Jay Carney said on Wednesday. "What we've seen in the past when Congress has passed legislation, it has actually slowed the process down. So we believe that this has to be run by the book, outside of politics, and that's the way it's being run." It would take 67 votes in the Senate to override a veto -- a tougher prospect for the legislation's backers. Attaching the bill to the energy efficiency measure, however, would complicate things.
Landrieu indicated Thursday that the veto threat doesn't bother the bill's supporters. "I do not know what the president is going to do, but we have an obligation to do what we think is right for the country," Landrieu said.
Keystone opponents say that they aren't too worried about the Senate vote. "We see this as a purely political move," Jane Kleeb, director of Bold Nebraska, said in a call with reporters Thursday afternoon. "We think the president will be true to his word that he wants to see the process play out."
Nebraska rancher Randy Thompson, who was one of the plaintiffs in the case challenging the pipeline route thorough Nebraska, also brushed it off as being "like a prairie chicken -- once you get past the puffed up feathers, there's not a whole lot underneath there."
Sabrina Siddiqui contributed reporting.
BEFORE YOU GO
PHOTO GALLERY
Reaction To The Keystone XL Report