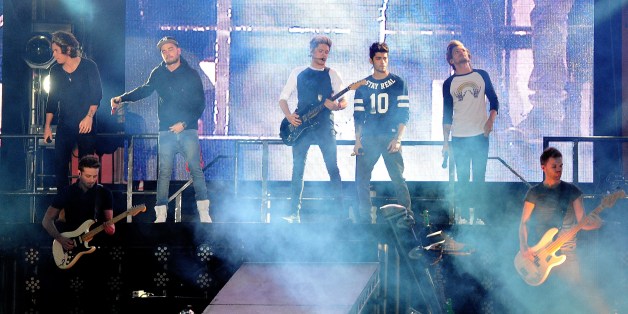 One Direction fans did not expect to leave a concert needing serious medical attention, but 47 Directioners were treated for symptoms of asphyxia after a show in Peru.
The band was forced to stop playing in Lima on Sunday, April 27 after fans were crushed in the crowd. According to local reports, One Direction's Niall Horan had warned the crowd they would be forced to stop playing if the fans didn't stop pushing forward. ""If you don't want anyone to take us off the stage, make sure you stay back," he told the audience. The head of Peru's volunteer fire service, Mario Cassareto, told The Mirror, "We treated 47 children with the first stages of asphyxia. Everything is under control."
The gig in Peru was the band's second date on their world tour, and 40,000 fans had showed up at Estadio Nacional stadium to see them play. A spokesman for the band said, "Every venue is different. There is always an individual crowd control and security strategy for every One Direction concert. Audience safety is always the number one priority on a One Direction tour."
The tour continues tonight, May 1, in Santiago, Chile before heading to Europe and then North America. Boy band love knows no bounds, but maybe some extra safety precautions will.
BEFORE YOU GO
PHOTO GALLERY
Stars in Concert