The key to great skin and hair just might be a beauty brand away.
We spotted Shaina Roche on the streets of Lower Manhattan as she was rounding up customers for free Aveda haircuts -- but it was HER hair that had us talking. After we raved about the splash of color in her faux hawk, she remarked: "Why wouldn't I go red?! With a personality like this you gotta go red!"
And we couldn't help but take a look at her skin, which was makeup-free. "I don't wear foundation -- I just use moisturizer and eye cream," she said. You might be thinking, so how does this girl look so radiant? The answer? She stays loyal to her brands.
When breaking down her skincare regimen, Roche mentioned Sabon as her line of choice. With her hair, she loves Aveda, of course. "I use Aveda Color Conserve Shampoo and Conditioner to keep the color bold, and in between washes, I use the Damage Remedy Daily Hair Repair so my hair stays strong and doesn't get damaged," she explained.
Roche's hair and skin brilliance is only one example of getting good results by sticking with a brand that works. If only we could be obedient in the face of a million beauty finds.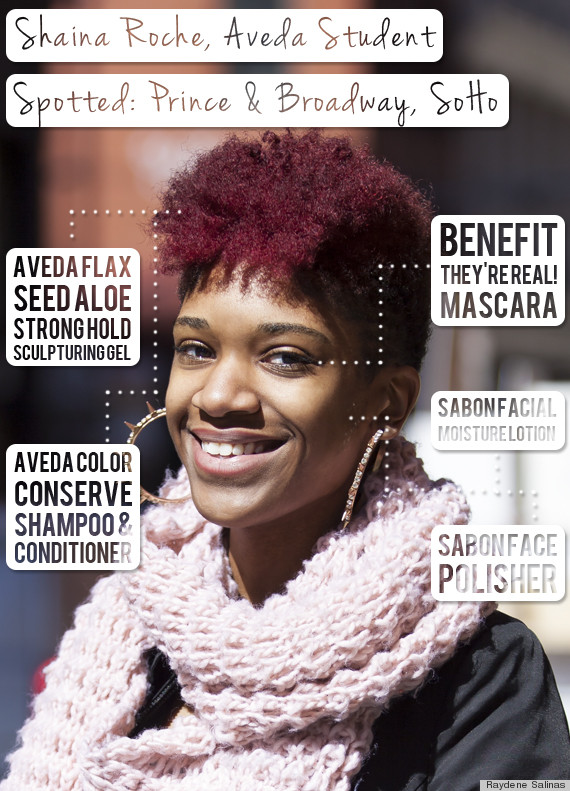 BEFORE YOU GO
PHOTO GALLERY
Beauty Street Style, Shaina Roche