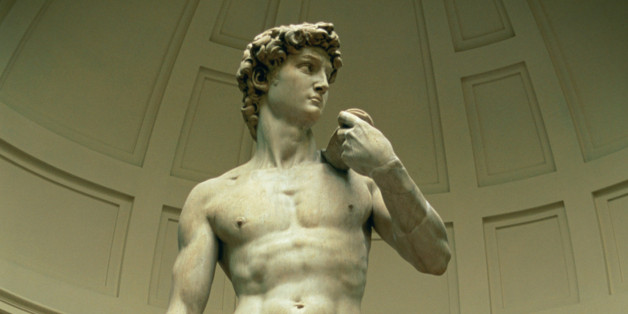 He may look fit, but researchers in Italy believe Michelangelo's David is in danger of collapsing due to his weak ankles.
According to findings from Italy's National Research Council and the University of Florence, the famous marble sculpture has tiny cracks around its ankles that could cause a serious problem for the masterpiece's prolonged stability.
"Micro-fractures are visible in the left ankle and the carved tree stump (that bears part of the statue's weight), threatening the stability of the sculpture," CNR said in a statement published in the Journal of Cultural Heritage and translated by Italian news agency ANSA.
The statue, carved from single block of marble in 1504, was on display outdoors until it was moved inside of Florence's Accademia Gallery in 1873. As the Australian Broadcasting Corporation notes, the statue recently underwent a year of restoration work and was unveiled in 2011 after the grime and sulphate deposits it had collected during its centuries outside were cleaned.
It was during this restoration that the cracks were first discovered.
Experts have long been aware that the poor quality of the marble puts the statute a risk for collapse, especially in the event of a major earthquake or even sustained vibrations from the nearby city, according to reports. Experts have previously suggested the sculpture be moved to a facility where it will be protected from these kinds of occurrences, the Telegraph noted in 2011.
BEFORE YOU GO
PHOTO GALLERY
Giant Statue Of David In New York