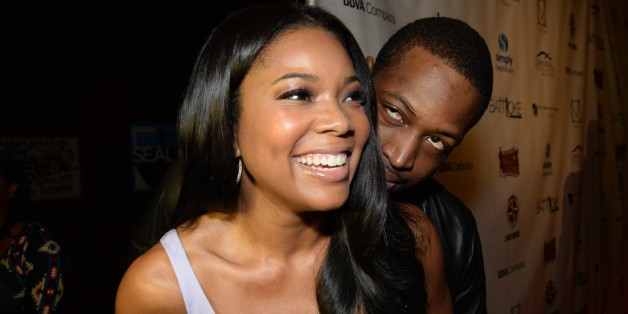 Balancing a rigorous NBA schedule and countless hours on Hollywood sets could be viewed as a hindrance for couples who are planning a lavish wedding. Luckily, for Gabrielle Union and Dwyane Wade, the journey to exchanging nuptials has been a bit more seamless.
In promotion of the forthcoming motion picture "Think Like a Man Too," the 41-year-old actress gave a candid interview in the May/June 2014 issue of Vegas magazine, dishing on wedding details and the "groomzilla" tendencies of her Miami Heat beau.
"Well, it will be smaller than the one in the movie, but it's definitely not toned down, per the wishes of my groomzilla," Union said of the couple's upcoming wedding. "D's very involved in every detail. My dude is having a princess moment. Me? I did the wine tasting, and I've said yes to the dress. In fact, I've said yes to a few of them. That's the joy of getting married to a man who loves clothes and wardrobe changes: You can have more than one dress."
And while the soon-to-be-newlyweds have yet to conceive children together, Union has fully welcomed the sole custody of Wade's two sons and nephew. The actress told Vegas about the benefits of having a blended family.
"We were at the construction site in Miami where we're building our dream home -- aka the money pit," she said. "I was wearing my Prada combat boots, no makeup, and D had a videographer recording the whole thing. I went from no kids to D getting full custody, and the next day we had a full house. So it was instant."
"Our lives never skipped a beat," Union went on. "When you're someone who goes from never having thought about birthing her own babies to [having] a ready-made family that has immediate needs and wants and desires, your life takes a back burner. If I were lucky enough to have one come out of my body, then great, I'd be totally open to that. But D's kids are more than just part of the wedding. They are part of my life. They're a package deal."
Read more of Gabrielle Union's Vegas magazine interview here.


BEFORE YOU GO
PHOTO GALLERY
Dwyane Wade and Gabrielle Union