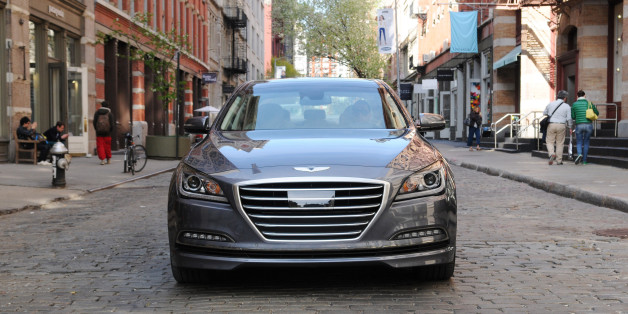 Hyundai's 2015 Genesis has a Google Glass app.
Yes, the Korean car manufacturer's latest luxury sedan will allow Glass users to do such things as start their Genesis sedans remotely or call roadside assistance with a simple command to Glass. But as it turns out, the Genesis' Glass app is just the tip of the car's technological iceberg.
The Huffington Post attended a recent Hyundai media event for the all-new Genesis. Here's a list of other things the car has to offer:
Put Your Junk In This Trunk
All 2015 Genesis models come with Hyundai's Smart Trunk technology, which automatically opens the trunk if it detects the vehicle's key in the vicinity for more than three seconds (provided that the car's doors are locked).
The basic idea is something we've heard of before –- Ford has a similar system that opens the vehicle's trunk when someone waves his or her foot under a sensor in the rear bumper –- but Hyundai says its system, which requires no extra physical input from the user, is a first of its kind.
What we thought:
Smart Trunk is definitely a neat concept, but it seems half-baked since the system only opens the trunk. Ideally, Smart Trunk would sense when the key is no longer near the car and automatically close the trunk too. After all, if your hands are full when you have to put items in the trunk, they'll probably be full again when you have to take those things out of the trunk.
Screen Time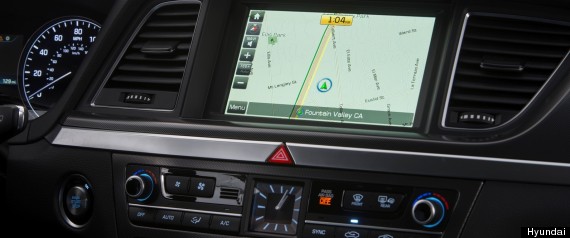 Drivers will be able to choose between two touchscreen center display systems -- the standard 8-inch or the larger 9.2-inch unit -- that show infotainment accessories like the standard navigation system, as well as stereo and climate information. Hyundai says the upgraded system's 720p high-definition display is a first among the mid-size luxury sedans the Genesis competes against.
What we thought:
We were unable to sample the smaller, standard 8-inch touchscreen display, but we were able to play with the larger 9.2-inch unit. It certainly offers sharp resolution and clear graphics. The touchscreen was quick to respond to our inputs too, though you can also use hard buttons to navigate through the screen's many menus if you prefer a screen without finger smudges.
In-Cabin Carbon Dioxide Sensor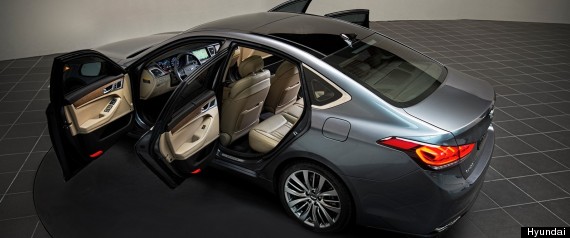 Are you especially gassy or carrying multiple passengers? Even worse, are you carrying multiple gassy passengers? Whether its exhalation or flatulence, the new Genesis is ready to combat any excess carbon dioxide (CO2) in the passenger compartment.
Using an in-cabin CO2 sensor -- a technology Hyundai says is the world's first -- the new Genesis will pump in enough fresh air to make sure the cabin's CO2 levels remain at less than 2,000 parts per million. (Hyundai notes that 400-700 parts per million is considered a "normal" level.) Less CO2 in the cabin means less drowsiness, which means Genesis drivers will be more alert behind the wheel and, hopefully, less likely to find themselves in an accident.
What we thought:
While it's unlikely the Genesis' CO2 sensor will completely eliminate driver drowsiness, we do think it's a step in the right direction (at least until our cars become completely autonomous). We can also report that during our brief drive of the new Genesis we never felt drowsy, though, admittedly, the CO2 sensor likely played no role in our failure to tire behind the wheel.
Big Gas Engines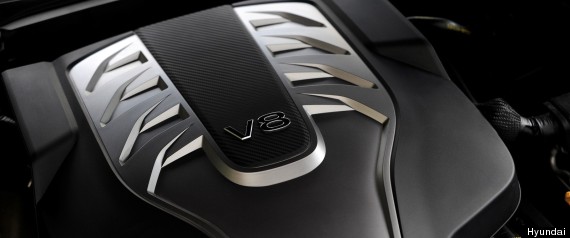 Though the Genesis offers a large amount of technology for its $38,000 starting price tag, the car's two available engines, a V6 and a V8, are arguably its least technologically advanced features given the industry's move to incorporate more efficient hybrid and electric technology.
Both engines are powerful but neither stands out as particularly green. At best, Hyundai says the 2015 Genesis will return a respectable 18 mpg in the city and 29 mpg on the highway when equipped with the base 311-horspower V6. (Those numbers drop to 16 and 25, respectively, on all-wheel drive models.) At worst, the company expects Genesis' equipped with the optional 420-horsepower V8 to manage an SUV-like 15 mpg city and 23 mpg highway.
What we thought:
Hopefully Hyundai will soon offer a hybrid option for the car, because fuel efficiency aside, the new Genesis, which goes on sale this month, packs a lot of technology for the money.
BEFORE YOU GO
PHOTO GALLERY
2014 New York Auto Show