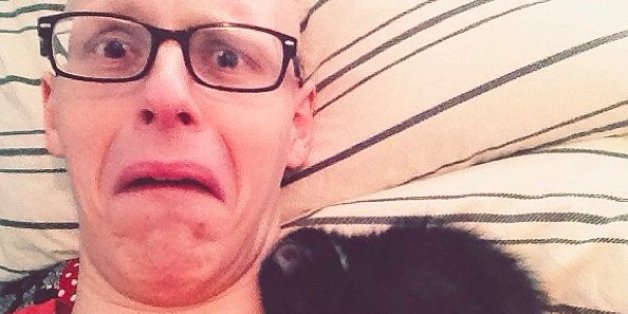 In some ways, Michael Tatalovich's Instagram account is like many of other teens' -- he posts selfies with friends, food, cats and cool travel photos. But in between the beach scenes and latte art, are photos that document Michael's battle with cancer in a very real and often refreshingly funny way.
The high school senior from Henderson, NV was diagnosed with Ewing's sarcoma (a form of cancer inside his femoral head) last May. He found out that he'd have to undergo chemotherapy, get a hip replacement and put life as a volleyball player on hold.
Michael shared the news with his friends on Instagram. He posted a photo post-surgery, explained what his diagnosis meant, and also wrote:
I may not be my normal self over the next couple months, but just know it's because I will be fighting this and trying to make the best of everything. I would appreciate if I didn't receive any visitors over the next couple days because of these new circumstances. Thank you for your prayers and well wishes.
Since then, he's used Instagram to show his friends the reality of cancer, despite advice from his mom that he shouldn't post a photo that made him look "sick." Michael insists that his photos should depict what living with the diagnosis every day is really like.
Michael says the photos are a way to look back and remember his journey. It's been a year since he posted a #wheelchairswag photo, and he says the image acts as a reminder of how far he's come in his recovery.
He's been through a lot, but has maintained a sense of humor, using captions like "Straight #chemo chillin." And through the hard times, Michael has had much to celebrate -- he was crowned homecoming king, and recently announced that he'll be attending UT Austin in the fall.
See Michael's experience through his photos...