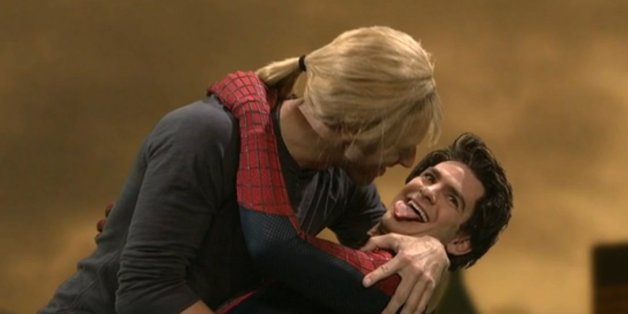 Andrew Garfield and Emma Stone are the world's new favorite couple, and even when one of them makes a misguided comment, it seems that they can do no wrong. This was before we saw them try to kiss on last night's, May 3, episode of "SNL."
Acting out a mock Spider-Man scene, Garfield and Stone prove that they have no idea what to do when it comes to locking lips, awkwardly licking each other's mouth areas and violently sharing oxygen. Thankfully, tongue guru Chris Martin was in the house, and so he slapped on a wig and showed Garfield what true romance tastes like.
"Now you listen to me, you beautiful spidery man," Martin said to Garfield. "Why don't you go ahead and show me that beautiful little tongue."
Watch the hot video below.
BEFORE YOU GO
PHOTO GALLERY
Celebrity News & Photos