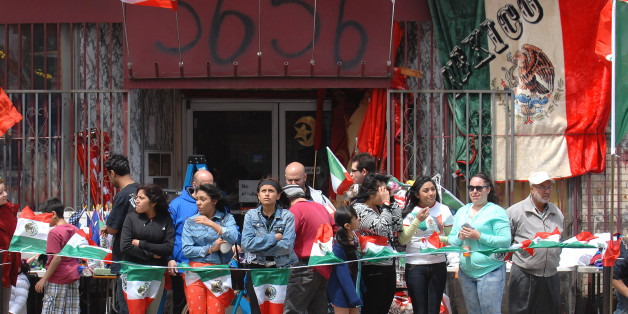 Detroit's Cinco de Mayo parade was cut short when a 19-year-old father of a 2-year-old was shot to death after an argument.
The annual parade celebrating Mexican heritage brought thousands of spectators Sunday at noon to Southwest, a Detroit neighborhood with a large Hispanic population.
The victim was fatally shot shortly after 1 p.m. after getting into an argument at a busy intersection on the parade route, Detroit Police Officer Nicole Kirkwood told the Huffington Post.
According to the Detroit Free Press, the area was too packed for an ambulance to enter and police had to carry him into a squad car.
Kirkwood said police took the suspected shooter, a 24-year-old male, into custody Sunday. According to the Detroit News, the suspected shooter was defending a relative when he fired the single shot that struck the victim.
MLive identifies the victim as Andreas Dejesus, who went by "Noodles." He had a 2-year-old son, and his girlfriend Tiffany McIntyre is 8 months pregnant with his second child. Police told the news site that Dejesus was a member of a gang but the shooting was not necessarily gang related.
Family members and others held a vigil Sunday night at the intersection where Dejesus was killed.
Messages to 19-yo Andreas "Noodles" Dejesus - shot & killed during Cinco de Mayo parade. More ahead on @Fox2News morn pic.twitter.com/lnLeDyHE9z

— Erika Erickson (@FOX2Erika) May 5, 2014
Tragedy has struck Detroit's Cinco de Mayo parade before. In 2009, a fatal shooting with ties to gang activity occurred near the parade route, the Detroit News reports. The event ended with police breaking up a street fight involving about 40 men, according to the paper.
Sunday's event was the 50th anniversary of the Cinco de Mayo parade. Festivities were cancelled shortly after the shooting.
The police investigation is still ongoing. An autopsy is scheduled for Monday, according to the Free Press.
BEFORE YOU GO
PHOTO GALLERY
Pivotal Moments In The U.S. Gun Control Debate