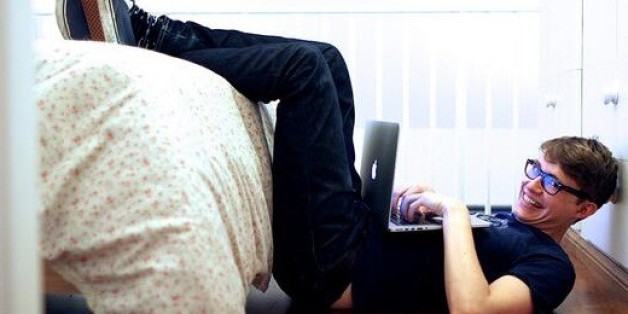 With the highly-anticipated "The Fault in Our Stars" movie quickly approaching, the Internet is preparing accordingly. By now, most nerdfighters have probably seen the popular "It's a Metaphor" meme, but the latest "TFiOS" hilarity to hit the web is something special.
Inspired by John Green's recent Hollywood Reporter photo shoot, YouTube celebs Charlie McDonnell and Emily Diana Ruth decided to do their own take on the author's casual pose using the hashtag #Johning. From there, "TFiOS" fans began creating their own hilarious versions (and yes, Green is in on the joke).
Proud that I utilise the same writing position as NYT best selling author @realjohngreen. Try it at home! #Johning pic.twitter.com/ArAXKEzVVM

— Charlie McDonnell (@coollike) May 1, 2014
Check out a few great parodies below and tweet your best #Johning attempt at @HuffPostTeen!
Learning and #johning @realjohngreen
With @mareea_gaines pic.twitter.com/SFMQx9J2ne

— Katie \m/ (@7eenage_dirtbag) May 2, 2014
#Johning in #APLit this morning! #ThatsHowWeRoll @realjohngreen pic.twitter.com/nnYINEq3It

— Mrs. Massey (@English_Diva) May 2, 2014
Nothing to see here, folks, just a one-legged guy #Johning at Disneyland. #ReadingFrozen @realjohngreen pic.twitter.com/x53dhbQZXg

— Josh Sundquist (@JoshSundquist) May 2, 2014
Even toddlers are #Johning @realjohngreen pic.twitter.com/die6HdT7RL

— Sarah Waters (@scarahhhh) May 1, 2014
@coollike @realjohngreen the first rule of #Johning is safety first, please don't make my mistake: pic.twitter.com/ybNBnijSzj

— Emily Diana Ruth (@emilydianaruth) May 1, 2014
#Johning pic.twitter.com/B2HKITL31E

— Ryan (@ryedth) May 1, 2014
Follow HuffPost Teen on
Twitter |
Instagram |
Tumblr |
Pheed |