It's here! Met Gala day 2014 is here!
We've been flipping out over a Michelle Obama sighting at the opening of Anna Wintour's Costume Center since we first found out she might be there last week. Now, the wait is finally over. FLOTUS arrived in New York on Monday to commemorate the opening and she obviously dressed to impress Vogue's editor-in-chief in a green, long-sleeved floral Naeem Khan dress. The ensemble is a bit more casual than her stunner from Saturday's White House Correspondents' Dinner, but the First Lady still looked lovely.
She also took the opportunity to share some adorable moments with Wintour, who we're not used to seeing quite so... cuddly.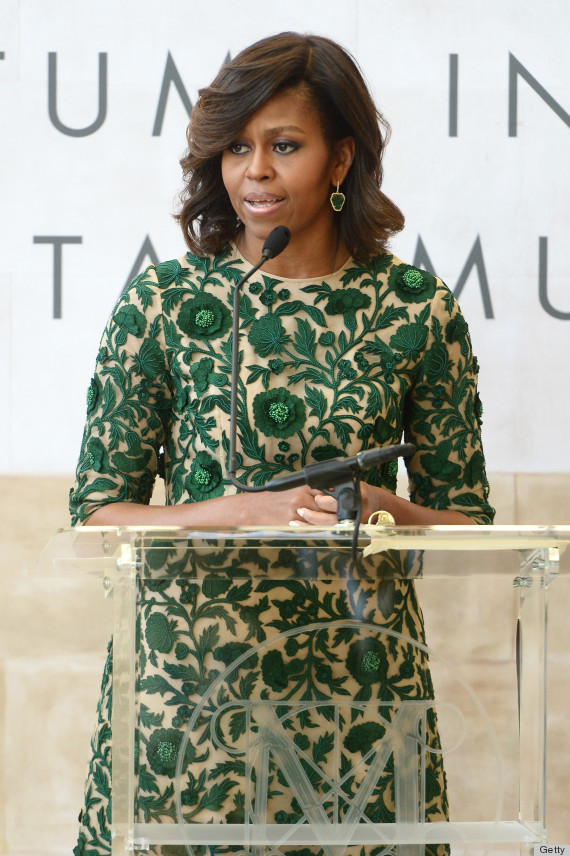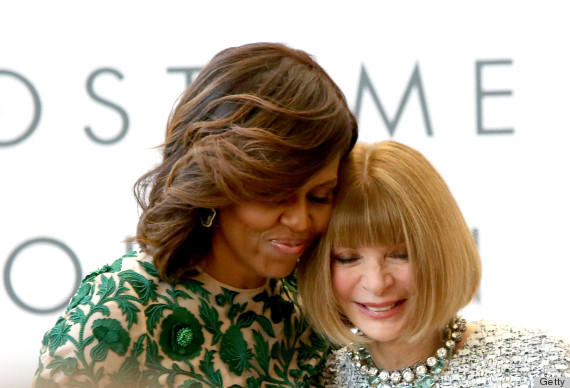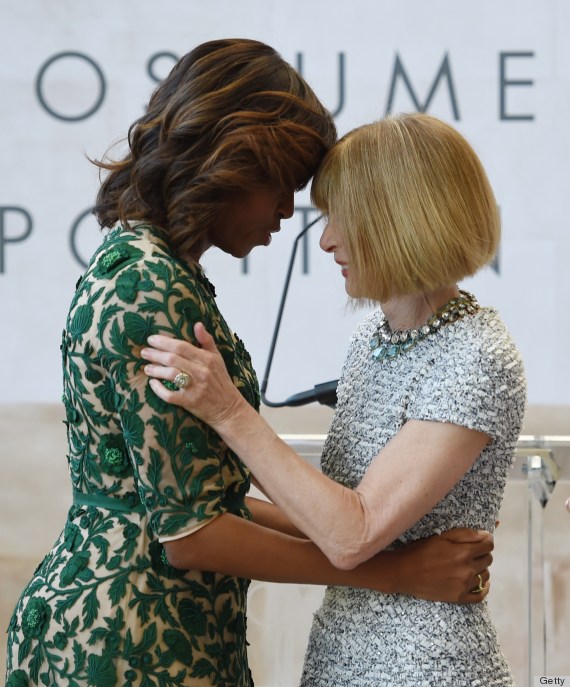 Michelle Obama introduces the Anna Wintour Costume Center at The MET pic.twitter.com/gQ7QTjoL2f

— Kenneth Cole (@KennethCole) May 5, 2014
Guests of the ceremony include some of the biggest names in the fashion industry, from Calvin Klein to Victoria Beckham to Mary-Kate and Ashley Olsen. Other attendees couldn't hold in their excitement from inside the venue, taking to Instagram and Twitter to share some sneak peeks of the newly renovated building.
@MET w/ @TommyHilfiger & @ KennethCole awaiting @FirstLady @MichelleObama ribbon cutting 4 @AnnaWintour Costume Inst pic.twitter.com/MR85u9sFKJ

— Michelle Miller (@CBSMMiller) May 5, 2014
Only for Anna Wintour & @MichelleObama would I wear heels after walking 39 miles. Off to the #metball ribbon cutting! pic.twitter.com/olmLM2ab7a

— Bianca Posterli (@Bincerli) May 5, 2014
Guests have arrived for the new Anna Wintour Costume Center ribbon cutting ceremony with @MichelleObama #MetGala pic.twitter.com/d9AuzAeNUU

— metmuseum (@metmuseum) May 5, 2014
Could this mean... an appearance at the Met Gala? You know, she's already in town and all. It seems silly for her to leave before all the fun starts. Enjoy your first Michelle sighting of the day while we countdown and daydream about outfit options for tonight.

BEFORE YOU GO
PHOTO GALLERY
Michelle Obama Outfit Repeats