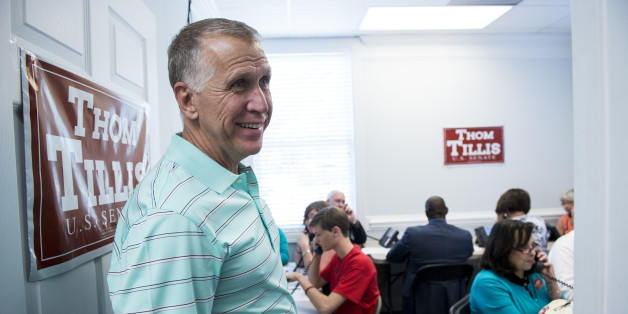 Former Massachusetts governor and GOP presidential candidate Mitt Romney announced his support for Senate candidate and North Carolina House Speaker Thom Tillis, making Romney the latest big-name figure to weigh in ahead of Tuesday's primary.
Romney endorsed Tillis in a Monday press release as Tillis vies to win the nomination to take on Sen. Kay Hagan (D-N.C.).
"I am proud to support Thom Tillis for US Senate," Romney said in a statement. "Now more than ever, Americans need problem-solvers in Washington, DC. Thom is a conservative who has been solving problems in North Carolina as Speaker of the House and I am confident he will do the same in Washington. I am convinced by his record of conservative results that he is the right candidate to help Republicans win a majority in the US Senate in 2014. I urge North Carolinians to support Thom Tillis on May 6th."
Tillis faces obstetrician Dr. Greg Brannon, who has been backed by Sen. Rand Paul (R-Ky.), and pastor Mark Harris, who has received support from former Republican presidential candidate and Arkansas Gov. Mike Huckabee (R). The state House speaker has also been endorsed by former Florida Gov. Jeb Bush (R) in a race that resembles a proxy war for the Republican presidential nomination in 2016.
"I consider it a humbling privilege to have earned the endorsement of Mitt Romney," Tillis said in the release. "His contributions to our nation and our party are unmatched. I have deep respect for Gov. Romney's devotion to his faith, his family, and the conservative principles he espouses. I am eager to work with him as we strive to win a conservative majority in the US Senate."
Tillis must win 40 percent of the vote Tuesday in order to avoid a runoff against one of his challengers. HuffPost Pollster, which combines all publicly available polling data, shows Tillis in the lead, with nearly 23 percent of the vote.
Romney has also endorsed Iowa state Sen. Joni Ernst (R), who is running in the Republican primary for retiring Sen. Tom Harkin's (D-Iowa) seat, and Dr. Monica Wehby, who hopes to challenge Sen. Jeff Merkley (D-Ore.).
BEFORE YOU GO
PHOTO GALLERY
Senate Seats Up For Grabs In 2014