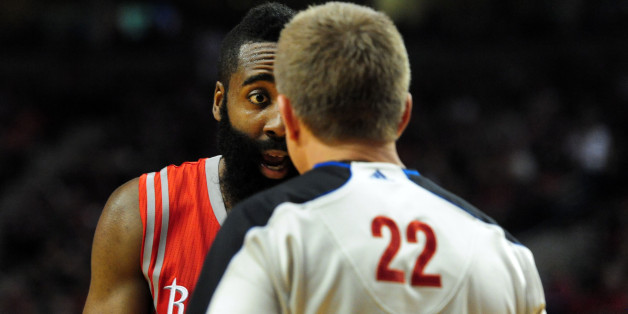 A thrilling first round of the NBA Playoffs saw two 1-seeds nearly go down, a record five Game 7s (tied with 1994) and Portland's Damian Lillard showing signs of a superstar in the making. But it's not all sunshine and lollipops, as these series have been marred by some pretty big disappointments as well.
Putrid Pacers
A top seed has lost to an 8-seed only five times in league history, but Indiana, the top in the East (ahead of Miami) very nearly became the sixth. Maybe expectations should have been lowered for Coach Frank Vogel's club; only the now-eliminated Atlanta had a worse second-half record in the East. Then there was All-Star center Roy Hibbert whining about post touches and his subsequent disappearance from the box score, followed by reports of a fight between guards Lance Stephenson and recently acquired Evan Turner. Vogel -- once considered one of basketball's brightest young coaches -- appears to have worn out his welcome; and Paul George, after a brilliant first half of the season, has completely lost his shooting touch. Although Indiana ranked first overall in defensive efficiency this season, it seemed to be totally off its game until fighting back in Games 6 and 7 to persevere. A second-round series with peaking Washington looms.
Kevin Durant Slumps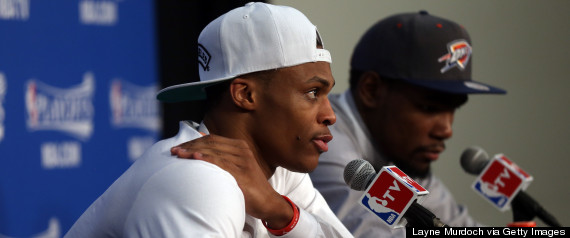 Perhaps the The Oklahoman's "Mr. Unreliable" headline was too harsh, but the likely MVP's struggles in the first round against Memphis were significant. Hounded by Tony Allen and Tayshaun Prince, Durant had a five-game stretch in which he shot just 40 percent. After the Game 5 home loss, he said, "Sometimes you've got to be a decoy out there. And I'm fine with that." To be fair, the 25-year-old bounced back in a big way, delivering back-to-back 30-plus games to help OKC stave off elimination. But Durant is not a decoy -- he is Kevin Durant. Blame Russell Westbrook (who shot 38 percent against Memphis and attempted almost as many 3s as free throws), blame Scott Brooks (doesn't run offense), or blame Durant, if you want to. But something is really, really wrong in Oklahoma City, and the Thunder's championship window seems to be closing.
Joey Crawford
Former NBA ref Tim Donaghy said that Joey Crawford likes to make the game about himself, and Crawford found a way again in the waning moments of Game 5 between OKC and Memphis, when the controversial referee iced Durant at the free throw line.
Crawford was suspended by the league in 2007 for "inappropriate behavior" after he ejected Tim Duncan from a game for complaining. In a 2012 interview with The New York Times, Crawford admitted he had mishandled the situation. "The Duncan thing probably changed my life," he said. "It was just -- you come to the realization that maybe the way you've been doing things is not the proper way and you have to regroup, not only on the court but off the court."
Crawford's other controversial call in these playoffs came in Game 2 of the Washington-Chicago series, but that was peanuts compared to the Durant situation.
Referee Danny Crawford (no relation) drew the ire of fans when he did something similar during the 2013 playoffs, but not in the final seconds of a game. It will be interesting to see how the league delegates Crawford in the future.
Da Bulls
Even without the injured Derrick Rose, the Bulls were a heavy first-round favorite over upstart Washington. Defensive Player of the Year Joakim Noah, flanked by Carlos Boozer and Taj Gibson, seemed to be enough. Instead, Washington -- who captured its first postseason series win in nearly a decade -- overpowered Chicago in a mere five games, and on both sides of the ball. Tom Thibodeau's bunch failed to muster any sort of offense, highlighted by a mere 69 points in a Game 5 loss to end the series. This against a Wizards team that ranked just 15th in opponent field goal percentage allowed this season.
Hapless Harden
For the second consecutive postseason, Houston's best player and the NBA's fifth-leading scorer endured a woeful six-game playoff stretch, shooting an almost unthinkable 38 percent from the floor and under 30 percent from distance. Harden's Houdini act was due in large part to the fact that his restricted area attempts were down 10 percent through the first five games, according to ESPN.com. Dwight Howard, who has been the game's premier pick-and-roll option for several years, hardly ran any with the isolation-minded Harden. One thing is for certain: Portland did not fear the beard.
Email me at jordan.schultz@huffingtonpost.com or ask me questions about anything sports-related at @Schultz_Report and follow me on Instagram @Schultz_Report. Also, be sure and catch my NBC Sports Radio show, Kup and Schultz, which airs Sunday mornings from 9-12 ET, right here.
BEFORE YOU GO