After endless episodes of torrential rain and chilly temps, spring fever may finally be setting in. But while we'd like to credit Mother Nature for our sunnier outlook, it's really our favorite purveyors of home goods we have to thank. Here are 15 ways to update your home this spring -- without breaking the bank or having to do it all over again come summer.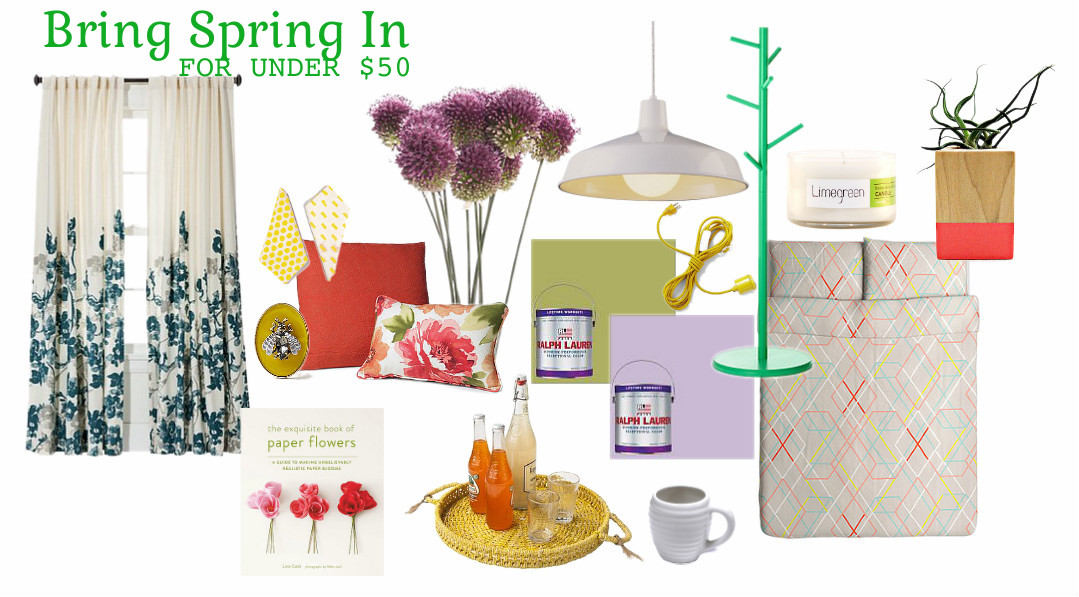 Clockwise from right:
Threshold Climbing Vine Window Panel, $30, target.com
Polka Dots & Dashes Napkins Set, in Sunshine Yellow, $24, artsymodern.com
Floral Pillow, $17, homegoods.com
Dark Purple Alliums, $40, flowermuse.com
Back To Basics 1-Light Pendant, $37, wayfair.com
Nylon Cord Set, in Yellow, $39, westelm.com
IKEA PS 2014 Hat And Coat Stand, in Green, $30, ikea.com
Home/Store/Body Massage Candle, in Lavandula, $28, brooklynlimegreen.com
Coral Block Air Plant, $28, dotandbo.com
IKEA PS 2014 Duvet And Pillow Set, in Multicolor, $50, ikea.com
Bauer Pottery 12oz. Beehive Coffee Mug, in White, $28, store.dwell.com
Ralph Lauren Eggshell Interior Paint, in Branch Green and Spring Heath, from $40, homedepot.com
Nate Berkus Sisal Hemp Weave Tray, in Yellow, $20, target.com
The Exquisite Book of Paper Flowers by Livia Cetti, $16, amazon.com
Glasbury Knob, in Chartreuse, $16, anthropologie.com
Check out HuffPost Home's Pinterest board for more spring decorating ideas.