How do women today really define success in their lives? Is it income, happiness -- or something else?
Northwestern Mutual commissioned the Elements of Success study to find out, and wealth management advisor Delynn Dolan Alexander joined HuffPost Live's Caroline Modarressy-Tehrani today to discuss whether working women care more about their job title or flexible work hours.
The study, which assessed thousands of women, asked participants to choose from more 25 variables to describe their top predictors of success. These were the top three :
"Being happy," 84%
"Having enough money to pay the bills," 79%
"Being healthy," 79%
While three out of four women say they feel happy with their lives right now, only 45 percent of the women surveyed feel they had yet to reach their financial goals.
"Fifty seven percent felt like having some benefits at work were meaningful to them, and that was maybe a 401(k) or vacation time or even sick time," explained Dolan Alexander. "Another 53 percent felt like defining success by being passionate about what they do meant success. Having some flexibility with their schedule was super important to women today. And just being in a positive, motivated, happy work environment was important to these women."
The study also compared definitions of success in the workplace for men and women, and found a great deal of overlap between the two.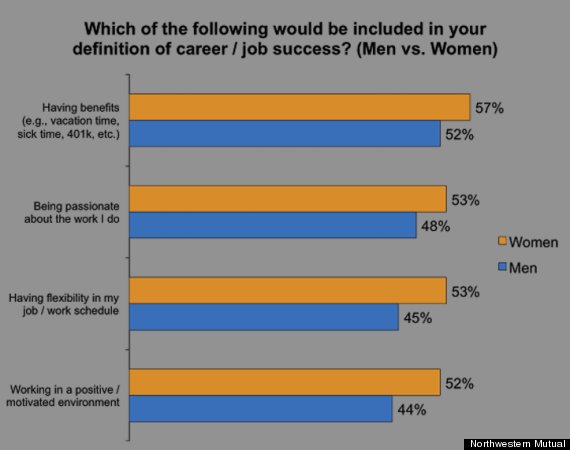 "I think women and men nowadays are finding that success is money, yes, but really money is more of a means to an end," said Dolan Alexander. "It's affording us the opportunity to do the things that we really love to do in life."
To hear more about the study, watch the full HuffPost Live video above.