Making cocktails at home can be intimidating. First you need the right tools, then you need the right shaped ice, and then you need all the right ingredients of course. Even if you're making a simple cocktail, it probably includes at least three ingredients that you wouldn't necessarily just have lying around the house. Sometimes it can feel like more work than it's worth.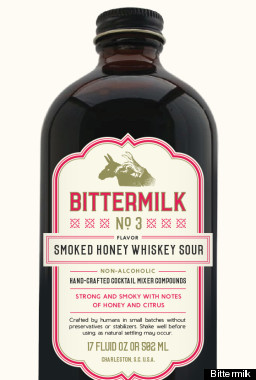 A new company called Bittermilk is changing the homemade cocktail game. Bittermilk sells bottled cocktail mixes containing everything you need for a complete drink. That's right: everything you need in one bottle. Each bottle includes a bittering agent, a sweetener and an acid, and all you do is mix the liquid with your liquor, and soda if you're using it. It's really easy and we think pretty genius.
As Bittermilk's instructions say, "The labor is in the bottle. Just add booze." (And ice and soda if you want.)
Bittermilk comes to us from husband and wife team Joe and MariElena Raya. They currently sell three variations of cocktail mix: Smoked Honey Whiskey Sour (17 ounce bottle for $15); Tom Collins With Elderflowers and Hops (17 ounce bottle for $15); and Bourbon Barrel Aged Old Fashioned (8.5 ounce bottle for $15). New Orleans Style Old Fashioned Rouge is in the works. We tried the Tom Collins mix and adored it. Unlike too many cocktails, this mix wasn't too sweet; instead, it was light and refreshing.
If we had it our way, we'd have a Bittermilk mix for every cocktail we love. We think a Manhattan mix would work really well, as would a Negroni mix and something Mojito-esque.
BEFORE YOU GO
PHOTO GALLERY
The Most Influential Cocktails Of All Time