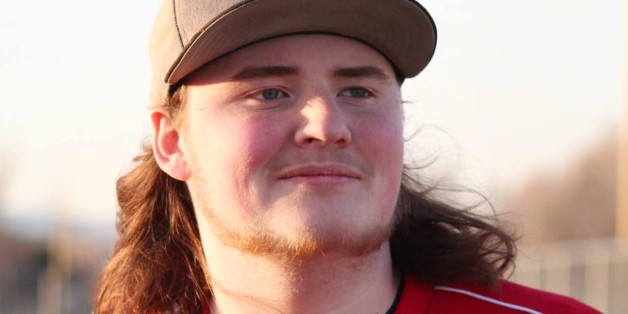 Last week, Liam Nazarek was told by his baseball coach that he had a decision to make: Cut his hair, or sit on the bench.
The 16-year-old had decided to grow his hair out more than a year ago in order to donate it to an organization that makes wigs for cancer patients, according to the Pincher Creek Voice. But long hair won't cut it for Coach Bryan Mackenzie, who requires his Pincher Creek Junior Dust Devils to have a short 'do so they "look like ball players," according to the Calgary Sun. Liam wasn't aware that his long locks would bar him from the baseball diamond.
"You need to be respectful of your coach. You need to be respectful of the rules of the game," Kimberley Jorgenson, Liam's mother, told CBC News. "I don't think your hair has anything to do with that."
Fuel was added to the fire after Jorgenson discreetly utilized her camera phone to record an exchange she had with Coach Mackenzie. She posted the heated conversation to Facebook afterward.
"It's not part of baseball," Jorgenson is heard saying in the video.
"It's part of my baseball team, okay?" Coach Mackenize replied. "If you want to coach, there's the team."
The Pincher Creek Minor Baseball Association agrees that Coach Mackenzie should have the final word on how his baseball team is run. It also disapproves of Jorgenson's Facebook use.
"The parent in this situation ... manipulated the situation using social media," the organization said in a statement, CBC News reported. "This is totally unacceptable if not only because it sets a terrible example for our children. There was no respect in this situation whatsoever."
Liam is no longer playing for the Pincher Creek Junior Dust Devils.
BEFORE YOU GO
PHOTO GALLERY
10 Daring Charity Stunts