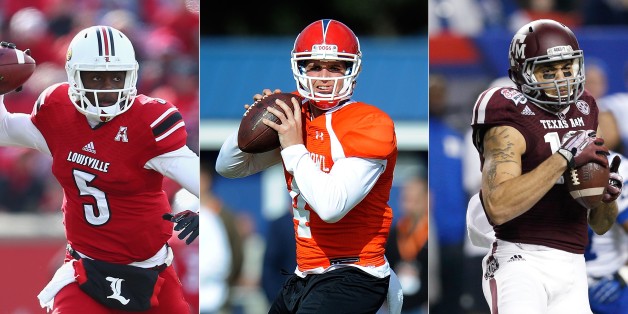 Everybody is an expert in the days leading up to the NFL Draft, which kicks off May 8. Even those who have no idea how the new format works have strong feelings about whom their team should pick. And whom should your team pick? Whom should they avoid? Because those who show the most potential sometimes prove to be the biggest disappointments, here are a few candidates who need a second thought:
Teddy Bridgewater, QB, Louisville
The good? Bridgewater ran a pro-style offense at Louisville, where he was remarkably accurate, winning 30 games over the past three years, including a memorable performance in the dominant 2013 Sugar Bowl win against an overhyped Florida team. But physically, Bridgewater is a very slight 6-foot-2, hovering a tad over 200 pounds. He isn't especially fast, and after not throwing at the combine, he had a miserable "pro day" that left scouts questioning his first-round billing. Bridgewater doesn't have a big arm or striking leadership abilities, but he does boast a better second-half quarterback rating when trailing than both Johnny Manziel and Blake Bortles. But if a quarterback like the New York Jets' Geno Smith can go in the early second round, Bridgewater remains a likely Day One pick.
Mike Evans, WR, Texas A&M
Evans is ranked as the first or second receiver on most national boards. At 6-foot-5 with tremendous ball skills, he has the size and physical strength to become a consistent red-zone threat. Among the top 20 wide receiver prospects in the 2014 class, he had the highest percentage (25.4) of passes caught beyond 25 yards, per ESPN.com. Evans proved to be Manziel's favorite target, amassing 69 catches as a redshirt sophomore. A lack of frontline speed appears to be his primary drawback. He ran the 40 in 4.53 seconds at the combine, which is not bad, but doesn't compare to a burner like Clemson's Sammy Watkins. The NFL has become an "after-the-catch" league for wide receivers, so Evans may well turn into a decent pro, but for him to go in the top 10 would be a monumental reach.
Austin Seferian-Jenkins, TE, Washington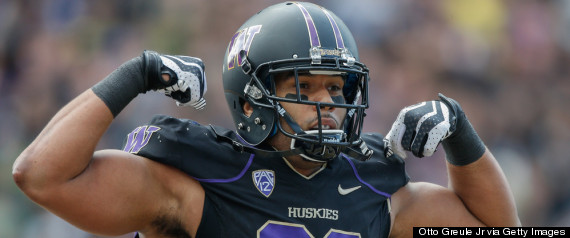 Seferian-Jenkins came to Washington three years ago as the top-ranked tight end recruit in America. At 6-foot-6, he is a colossal human being with excellent feet and big, strong hands. But somewhere along the way he put on some unnecessary weight and lost his burst. As a junior he dropped a ton of balls and didn't show much interest in blocking. And while he led all FBS tight ends over the past three seasons with 19 touchdowns inside the 20, he also has a DUI arrest to his name. As a potential first- or second-rounder, he screams bust.
Eric Ebron, TE, North Carolina
Ebron has gotten a lot of attention as a player cast in the Jimmy Graham mold, and he could be a top 15 pick. On paper, Ebron makes a ton of sense: He stands 6-foot-4 plus, ran a combine best 4.6 in the 40 and is a gifted route runner. However, like Graham, Ebron doesn't block, and he didn't dominate in the red zone the way an elite tight end needs to.
Derek Carr, QB, Fresno State
Carr's numbers (50 TDs, 8 interceptions) are through the roof, but those numbers benefited greatly from the Bulldogs' style of offense and their slate of opponents. But the 6-foot-2 Carr does offer an intriguing skill set: He has the arm strength and accuracy (just as his brother David does) to make some of the toughest throws, and Derek ran a pro-style offense early in his career under former coach Pat Hill. Former NFL head coach and current NFL Network analyst Steve Mariucci told HuffPost, "He's the most pro-ready QB in this draft. ... He's very grounded, maybe the best arm in this draft class, and climbing the board fast." But while he's demonstrated that he has the toughness to play through injury, Carr seems to struggle with decision making and his footwork when under pressure. In the bowl game against USC -- the only legitimate defense Fresno faced all year -- Carr completed a season-worst 54 percent of his passes and tossed two TDs with a pick.
Correction: A previous edition of this article incorrectly stated that Geno Smith was drafted on Day One. Smith was actually drafted 39th overall, on Day Two.
Email me at jordan.schultz@huffingtonpost.com or ask me questions about anything sports-related at @Schultz_Report and follow me on Instagram @Schultz_Report. Also, be sure and catch my NBC Sports Radio show, Kup and Schultz, which airs Sunday mornings from 9-12 ET, right here.