Kansas's Equality House has once again made a powerful statement of solidarity with lesbian, gay, bisexual and transgender (LGBT) individuals on a global scale.
In an effort to support members of the LGBT community facing persecution and injustice in Uganda, Equality organizers House painted the building the colors of the Ugandan flag. Planting Peace, the organization that owns the Equality House, also sponsors underground safe houses throughout Uganda in order to offer safety and protection to the LGBT community.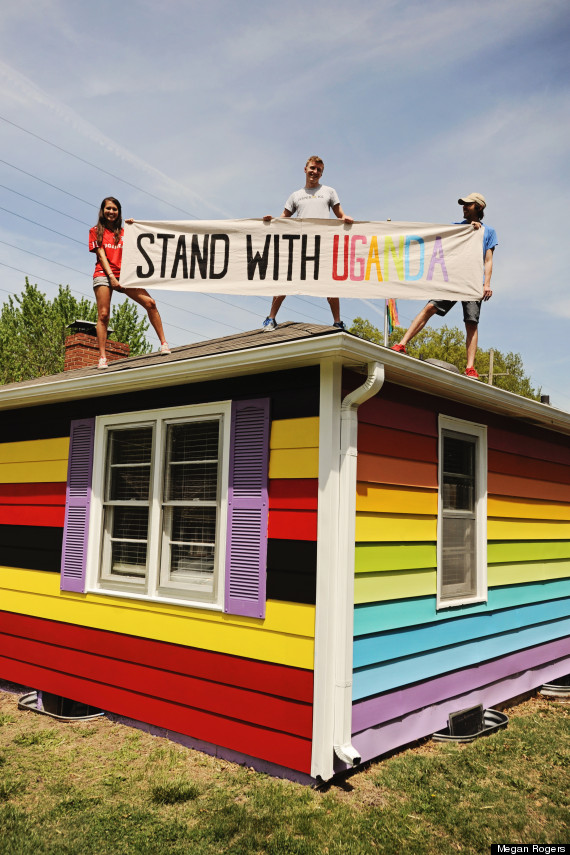 "Our Ugandan LGBT brothers and sisters face a great threat and the firsthand accounts of violence and persecution that we have heard only reinforce the urgency present in this human rights crisis," Planting Peace President Aaron Jackson told The Huffington Post. "It is imperative that the global community not just be aware of what is going on, but that we would all find a way to be proactive in combating the atrocities and injustices taking place within Uganda's border."
Jackson added that the organization is aiming "to act as a bridge between the international community and our friends of the sexual minority community in Uganda that are seeking refuge."
The Equality House is situated across the street from the infamously anti-gay Westboro Baptist Church in Topeka, Kan. and functions as a physical form of protest against the religious group's treatment of the LGBT community. In the past, the house, which first received its rainbow paint job in March 2013, has played host to a child's lemonade stand for peace, a gay wedding and a drag show -- all essentially on the anti-gay church's front lawn.
BEFORE YOU GO
PHOTO GALLERY
Equality House