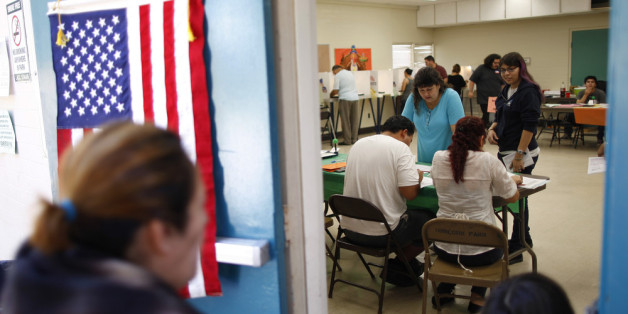 The Latino vote keeps getting bigger.
The Latino vote will grow by 19 percent this year compared to the last mid-term election in 2010, according to a report by the National Association of Latino Elected and Appointed Officials released Tuesday -- a substantial bump for a growing, Democratic-leaning constituency that played a key role in reelecting President Barack Obama in 2012.
Some 7.8 million Latinos are expected to go to the polls this November, marking an increase of 2.2 million over the last mid-term election in 2010, the report says. NALEO estimates that Latinos will account for 7.8 percent of the national electorate in 2014, up nearly a full percentage point from 2010, when the Latinos accounted for 6.9 percent of the vote.
"In the 2012 presidential elections, the Latino vote provided the margin of victory in key contests at all levels of government, including those in the 'battleground states of Colorado, Florida and Nevada," the NALEO report says. "Latinos are once again poised to play such a decisive role in Election 2014."
But despite its growth, Latino turnout continues to lag behind that of other groups. In a separate report, NALEO called upon Congress to pass the Voting Rights Amendment Act, which would require the four states of Georgia, Louisiana, Mississippi and Texas to submit changes to voting procedures for preclearance -- a practice once required by the Voting Rights Act to address racial discrimination, but discontinued after a Supreme Court decision last year in the case of Shelby County v. Holder.

In addition to those four states, the VRAA would require preclearance in another 24 jurisdictions across 12 states, according to NALEO. Some 4.5 million Latinos live in those districts, about 65 percent of the Latinos who lived in areas subject to preclearance requirements under the Voting Rights Act before the Shelby County v. Holder decision.
"Our democracy thrives when all its citizens are able to participate fully in the nation's political system," Arturo Vargas, NALEO Educational Fund's Executive Director, said in a press statement. "We need to be promoting policies that make voting and registering to vote more accessible, and not less accessible, to the nation's second largest population group and all qualified U.S. citizens."
The reports come as both parties are ramping up their efforts to reach out to Latino voters.
Actress and political activist Eva Longoria teamed up with DNC Finance Chairman Henry Munoz to announce the launch of the Latino Victory Project this week, which aims to raise millions of dollars to fund Hispanic candidates.

For its part, the GOP has tried to recover from immigration hardliner Mitt Romney's unsuccessful 2012 presidential campaign, in which he fielded just 27 percent of the Latino vote, the poorest performance since Republican candidate Bob Dole's 1996 run.
The Republican National Committee took note of its poor performance among Latinos in the 2012 presidential campaign in an "autopsy report" released in March of last year that urged Republican candidates to moderate their tone and embrace comprehensive immigration reform in order to expand its appeal among Hispanics.
Within months of the report, the RNC launched a seven-state Hispanic outreach effort, aimed at maintaining a permanent presence among Latino voters.
Nevertheless, the GOP has continued to put up as candidates immigration hardliners in heavily Hispanic states whose rhetoric grates on the ears of many Latino voters. Texas Lt. Gov. hopeful Dan Patrick (R-Houston), for example, has referred repeatedly to a Mexican "invasion" of his state, while former Minuteman and California gubernatorial aspirant Tim Donnelly recently defended a 2006 speech in which he said undocumented immigrants have launched an "insurgency" that will lead to the most bloodshed in U.S. history since the Civil War.