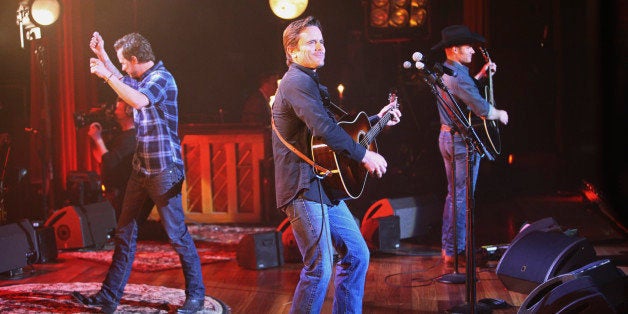 The cast of "Nashville" rolled into town for the New York City leg of their 4-city tour and, right on cue, we geeked out. Sitting down to chat with Charles Esten (Deacon), Will Chase (Luke) and Chris Carmack (Will), we learned a thing or two -- or 11 -- about "Nashville."
The three strapping gents gave us a little peek into how the show works, what they love about Music City and a little tease for the next episode (a USO show!), which airs Wednesday, May 7, but it didn't end there. These "Nashville" stars are the real deal and we just can't get enough.
Without further ado, 11 things we learned by spending some time with the men of "Nashville" (and then fangirling out at their live show a few hours later).
1. If you're ever in Nashville and find yourself in the Bluebird Cafe, you just might see one of the stars (as well as some of country music's biggest talents.)
The Bluebird has long been a hangout for music buffs, but now everybody wants to go there. Both Charles Esten and Will Chase copped to hanging at the Bluebird during their free time. Chase called writers' nights "inspiring" and "what that city is really about." Esten, fearful of upstaging the artists already there, will slip in the back ("pull a Juliette Barnes," he said) and hang out. Let's all go, shall we?
2. It is one of the most authentic shows on television.
The show is shot in Nashville, sure, but the music producers on the show are "sticklers" to keep the show authentic. Luke Wheeler's drummer on the show used to be Tim McGraw's drummer, Chase told us. "I love the attention to detail," Chase said, adding, "There is nothing worse than going to a movie and being able to say 'That guy has never held a guitar before.'"
3. Wearing a cowboy hat isn't always easy.
Okay, yes, we did already kind of know this. Chris Carmack said he bumps into walls when wearing his character's signature hat, but he doesn't travel with it because "it would require a separate suitcase." Fair point.
4. Everybody loves Mrs. Coach.
Charles Esten, it turns out, is just as obsessed with "Friday Night Lights" as the rest of us. He's a self-described "hardcore" "FNL" fan, and told Britton as much. "I said to her, it sounds like a corny line but if it's true, that makes it not so, and I said to her 'There are million reasons I'm excited to do this show and you are a couple hundred of them.' I wasn't replacing Coach -- it wasn't that kind of relationship -- she already had a husband, I was just the old boyfriend, so in a sense it took two guys to replace Kyle!" Texas forever ... in Tennessee.
5. The songs are picked for a purpose.
We knew the songs were amazing, but it turns out there is a lot more thought that goes into them. All three men we talked to noted the importance of the songs to the show and the intense process that goes into picking the right songs for the right character. Here's to more Gunnar-Scarlett duets that totally make us melt.
6. They treat their fans right.
The season finale involves a USO show and the cast actually went to Kentucky's Fort Campbell and filmed in front of soldiers who had just returned from Afghanistan and had watched the show while overseas. Chase called it "very moving." We call it totally awesome.
7. Will Chase has the bromance with Oliver Hudson we all wish we were a part of.
Chase and Hudson will hang out and go out to eat, Chase told us. So there's that. Eat your heart out, ladies.
8. Sometimes they learn about their characters as we do.
We had a little eye-opening moment a few episodes back when we learned Luke had always loved Rayna. We knew there was a history, but didn't realize quite how much. Turns out, Chase didn't exactly know that either. The more you know, ya know?
9. They love Nashville and Nashville (seems to) love them.
Chase thinks the city is "world class" and we'd tend to agree. During the "On The Record" concert at the Ryman, Esten said that "This Town" was like a love letter to Nashville. So what would Esten's love letter to Nashville sound like? "It would sound like our show. I couldn't do it better. It would have a whole lot of gratitude," said Esten. "That town has embraced the show which wasn't a given since they had been burned before and they asked us not to make them look dumb. There's something very lyrical and wonderful about that town. There's something in the air. I'm not normally one to talk about energies but it is a focal point of a whole lot of different energies that just push all the music forward." To recap: They love it.
10. They root for the people you're rooting for, too.
It's no surprise to us that the men root for the characters they play (Esten roots for Deacon and Rayna. To be precise, Esten -- playfully -- asked us if we were kidding with that question), we were just happy not to have to explain our obsession with Liam. Of Luke and Rayna, Chase said that Rayna has to, on some level, choose the normalcy of their relationship but that Deacon's the hero of the show. "I like that they make Luke a real guy, he's maybe not the artist that Deacon is wanting to be but Luke's a realist and people want to root against him but the fact that it's messy is what's good," said Chase. So the moral of this story is ... Deacon and Rayna forever?
11. These guys and gals are the real deal.
We see them sing on the show every week and we listen to the soundtracks on repeat at our desks, but seeing them perform these songs live confirms what we already knew ... These guys and gals are some supremely talented folks. They sing, they play musical instruments and most of them are songwriters, too. Carmack told us he writes "non-country" songs and Esten said that he writes about one or two songs a week with some of the shows songwriters.
"Nashville" airs Wednesdays at 10 p.m. EDT on ABC.