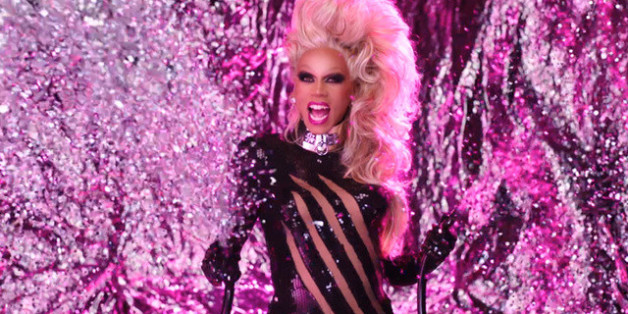 Middlebrow is a recap of the week in entertainment, celebrity and television news that provides a comprehensive look at the state of pop culture. From the rock bottom to highfalutin, Middlebrow is your accessible guidebook to the world of entertainment. Sign up to receive it in your inbox here.

"RuPaul's Drag Race" has had its fair share of controversy lately, but over the course of its six-season run, the show has managed to shift the mainstream perception of drag culture while also inverting the presiding structure of reality television. Where other contest-based shows are guided by a single matrix -- being the best model, or singer, or toddler in a tiara -- RuPaul judges drag queens in holistic manner. To take home the title, a contestant must have superior stage presence, proper blush contouring and the ability to conceptualize themed couture. They also need to be a good person.
On the show, being a "good person" is best understood as having "charisma, uniqueness, nerve and talent," and understanding that "if you can't love yourself, how in the hell are you gonna love somebody else?" Those are catchphrases, but also the presiding rubric by which Ru evaluates drag queens as they pass through each week's challenges. There are different skills that allow queens to move ahead, but ultimately to win, one must be able to function as a role model, not just for fledgling queens, but for anyone who needs a little help embracing their true self.
While it's easy to write off "Drag Race" as niche programming, its message extends far beyond a main stage judged by Michelle Visage and her breast plate. Being a drag queen means facing discrimination (simply by virtue of the stigmatization of the sub-culture). So, instead of relying on the trite, producer-driven conflict of the more basic iterations of reality television, "Drag Race" formulates the competition as a model for real-world harassment. For example, in "reading" sessions, the queens tear into each other with one-liners, but the purpose is not so much being catty as building up a resistance for the inevitable discrimination they'll face outside of the show.
The emphasis on the morality of self-esteem has always been embedded within "Drag Race," but it is especially clear this season through the juxtaposition of Bianca Del Rio and Courtney Act. The latter has Grace-Kelly good looks and a voice that earned her a spot on "Australian Idol." On a purely skill-based show, she'd be the standout competitor, but remains defeated by a personality which falls as flat as her abs. Then we have Bianca, who can sew and has whip-quick wit, but also brings a specific kindness to each episode. She is unafraid to admit to her weakness and consistently steps up to help other queens, even when the competition is playing to her strengths. Her humanity doesn't just make Bianca a fan favorite, it's also crucial to the show's narrative -- and it will surely be a major aspect of what leads her to victory in the finale.
The formulation for any other contest-based show demands its cast to prove their skills with almost a complete disregard for the competitor as an individual. Those cloying scenes of people crying and breaking down because shit's hard or they miss their family are the exception; at its core, reality television is about vitriolic pursuit of victory (whilst declaring "I didn't come here to make friends."). It's not that "RuPaul's Drag Race" centralizes on holding hands and singing an '80s dance version of "Kumbaya," but "making friends" certainly doesn't negate the winning. At the end of the day, beneath all the glitter and prestige of showmanship is a message about finding strength in vulnerability, and understanding that (as Ru once put it) "loving yourself is a daily practice." That's especially important to understand for those who don't adhere to society's prescribed gender norms ... but couldn't everybody learn to use a little more self love?
Follow Lauren Duca on Twitter: @laurenduca
BEFORE YOU GO
PHOTO GALLERY
Celebrity News & Photos