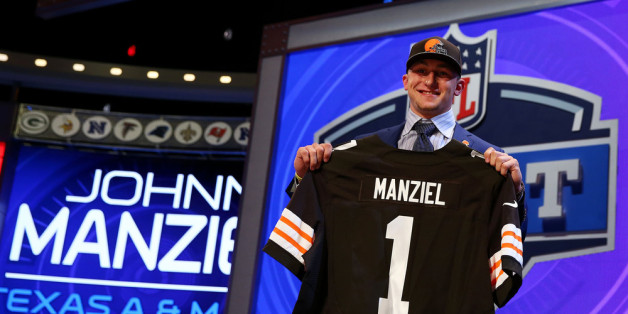 The Johnny Football Watch is over, finally.
The Cleveland Browns ended the vigil that dominated the first round of the 2014 NFL Draft by selecting Texas A&M quarterback Johnny Manziel with the 22nd overall selection.
"I told myself from the beginning that God had a plan for me and it would all work out," Manziel told ESPN's Suzy Kolber after he was fitted with his Cleveland Browns cap. "I really, truly believe that Cleveland was where I was supposed to end up."
#WelcomeToCleveland @JManziel2!! pic.twitter.com/m4GHsUhRxo

— Cleveland Browns (@Browns) May 9, 2014
As Manziel waited to hear his name called by NFL Commissioner Roger Goodell at Radio City Music Hall on Thursday night, he watched as Blake Bortles of Central Florida became the first quarterback selected, at No. 3 by the Jacksonville Jaguars. He then applauded as a pair of Texas A&M teammates were picked ahead of him. With team after team passing on Manziel in New York, hashtags #SadManziel and #BeforeManzielGetsDrafted became top trending terms on Twitter.
#SadManziel???

— NFL (@nfl) May 9, 2014
The Browns, who passed on Manziel with the fourth overall selection, finally got him out of the green room after moving up from No. 26 to No. 22 with a trade. Cleveland sent the No. 26 pick and the 83rd overall pick to the Philadelphia Eagles to move up. Prior to the NFL Draft, Cleveland was considered among the possible landing spots for the undersized dual-threat quarterback who emerged as a larger-than-life football star in College Station. Any discomfort or doubt felt by Manziel seemed to be erased after Goodell called him to the stage. The 21-year-old broke out his signature money sign celebration as he went to greet Goodell.
(GIF via @cjzero)
"Dawg Pound, here we come," Manziel told Kolber before leaving the stage.