A massive dead whale that washed ashore in Brooklyn Sunday was struck by a large cruise ship in New York harbor, officials confirmed Tuesday. Now investigators are trying to determine whether the whale died as a result of the collision, or if it was already dead.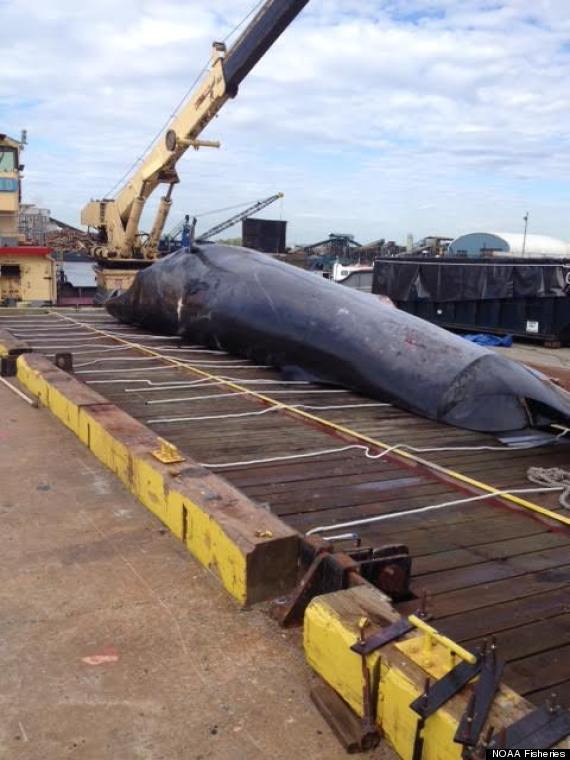 On Sunday, a 1,060-foot, 144,000-ton Norweigan Cruise Line ship was preparing to dock in Manhattan when a thruster malfunctioned, The New York Daily news reports. The ship, returning after a 7-day trip to the Caribbean, was stalled in New York Harbor for hours. When a tug boat arrived, crew members noticed a large whale across the bow of the ship.
The next morning, a 45-foot Sei whale -- the third-largest species of whale, listed as endangered by the U.S. Fish and Wildlife Service -- was found dead near the shore of Sunset Park, Brooklyn.
The whale carcass was transported to a Army Corps of Engineers dock in New Jersey, where biologists from the The Riverhead Foundation for Marine Research and Preservation performed a necropsy.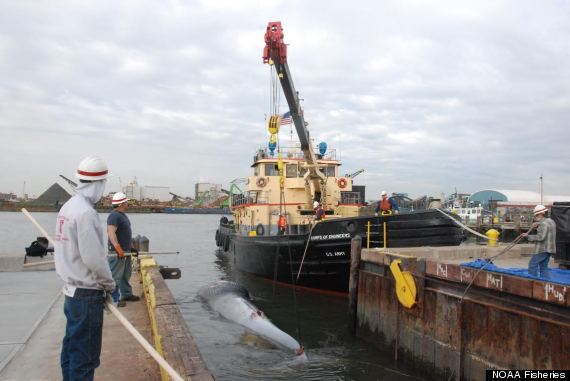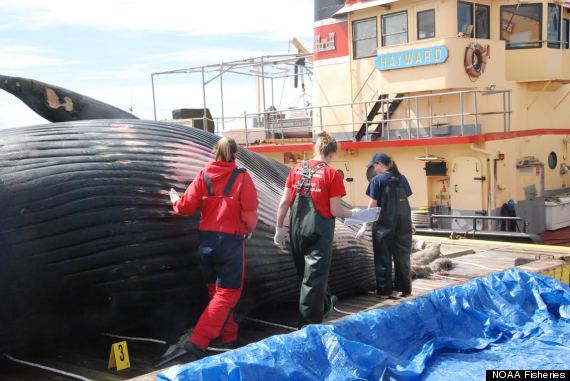 "We had our necropsy team out there all day yesterday and they found evidence of blunt force trauma, busted ribs, and a bruise along the right side of the animal," Robert DiGiovianni, executive director of the Riverhead Foundation, told HuffPost. "We collected a number of tissue samples to look at whether this contributed to the animal's death."
It will be weeks before testing results from the tissue samples will be available.
AnneMarie Mathews, a spokeswoman for Norwegian Cruise Line, told NBC New York that the collision with the whale was not related to the ship getting stuck in the New York Harbor.
"We take every precaution to avoid marine life and were saddened by the recent discovery," she said. Moone-Seus told HuffPost that the cruise line is fully cooperating with NOAA Fisheries' investigation of the incident.
BEFORE YOU GO
PHOTO GALLERY
Whales In Action