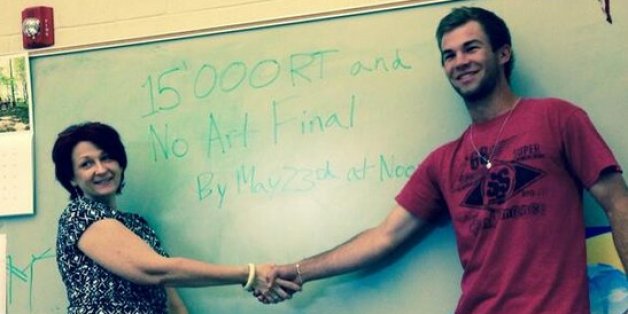 Well, this is one way to get out of a final.
Texas high school senior Andrew Muennink has been gaining attention around the Internet this week, after he told ABC News that he struck a deal with his art teacher that would allow his class to get out of a final exam. He told the outlet his teacher said she would throw out the test if he got 15,000 retweets on Twitter.
The Round Rock High School senior said he has until May 23 at 12 p.m. to complete his challenge, per ABC. The tweet in question had more than 7,200 retweets as of Friday morning.
15,000 retweets and no art final. PLEASE RETWEET. pic.twitter.com/L9WlZFSkQI

— Total Drew Move™ (@Two_Drew2) May 7, 2014
However, representatives from the high school deny that the deal is actually in play.
"We are very disappointed in the fact that abcnews.com did not do any fact checking regarding the Round Rock High School exam story," district spokesperson JoyLynn Occhiuzzi said in a statement to local outlet KVUE-TV. "The art students at Round Rock High School will be taking their final exams at the end of the month."
On Twitter, the teen is still imploring followers to support his cause.
@KevinKlineNews I believe a deal should be honored. And I will see that through.

— Total Drew Move™ (@Two_Drew2) May 9, 2014
Half way there! We can do this 👌👌👌

— Total Drew Move™ (@Two_Drew2) May 9, 2014
Regardless of whether or not Muennink actually gets out of his final exam, he seems to have started a trend. Around social media, similar challenges have been popping up in recent days.
PLEASE RT WE WILL ALL FAIL THIS AND NOT GRADUATE 😔😔😔😩😩🙏🙏🙏🙏 pic.twitter.com/DPLWFBgtIF

— Nick Varra (@NickVarra) May 7, 2014
PLEASE HELP I BARELY WENT TO THIS CLASS #Nofinal #government pic.twitter.com/pccbQOpniX

— Mackenzie Slagle (@themackenzzz) May 7, 2014
She said yes!! 50,000 RTs and no final for my trigonometry class!! #Retweet #Nofinal #Help #Ballislife #Pi #Minnesota pic.twitter.com/GVNJSMLQtG

— Mike Duginski (@MikeDugi) May 7, 2014
Muennink's art teacher was not immediately available to comment on the status of their deal.

BEFORE YOU GO
PHOTO GALLERY
The Most Interesting High Schools In America