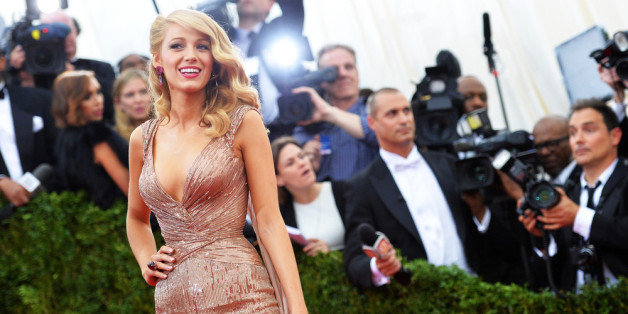 Somehow Blake Lively manages to be a glittering celebrity and a regular, sundae-loving twenty-something at the same time.
On Monday, Lively attended the Met Gala with husband Ryan Reynolds, looking stunning in a sparkling Gucci gown. After dazzling on the red carpet, the 26-year-old decided to skip the Met Gala afterparties and do something decidedly awesome.
"I ate hot fudge sundaes," she told "Extra" host A.J. Calloway at Gucci's Chime for Change party Tuesday. "Yeah. That's what I look forward to because you're just, like, in a corseted gown all night, like, just give me a hot fudge sundae."
She went to the famed Serendipity in New York City's Upper East Side to indulge in some frozen hot chocolate with extra peanut butter sauce on the side.
"Closed that place down," she said. "That's how I do an afterparty ... Peanut butter frozen hot chocolate, extra thick. Then you get peanut butter sauce on the side, and you get a hot fudge sundae, and you use the peanut butter sauce for that too."
Although Lively has incited envy by saying she doesn't work out but still eats desserts, the actress says outlets fail to report she maintains an active lifestyle.
"They make me look like a jerk because I'm like 'I have hot chocolate everyday and don't go to the gym,'" she told Calloway. "Yes, that part is true that I don't go to the gym and I eat chocolate everyday. But what they don't print is that I hate the gym. So, what I do instead is I find other ways to be active."
BEFORE YOU GO
PHOTO GALLERY
Blake Lively