The names of four alleged sexual assaulters were recently scrawled on the wall of a women's bathroom stall at Columbia University.
The Columbia Lion reports the names, which have since been removed, identified four undergraduate students, each in different handwriting.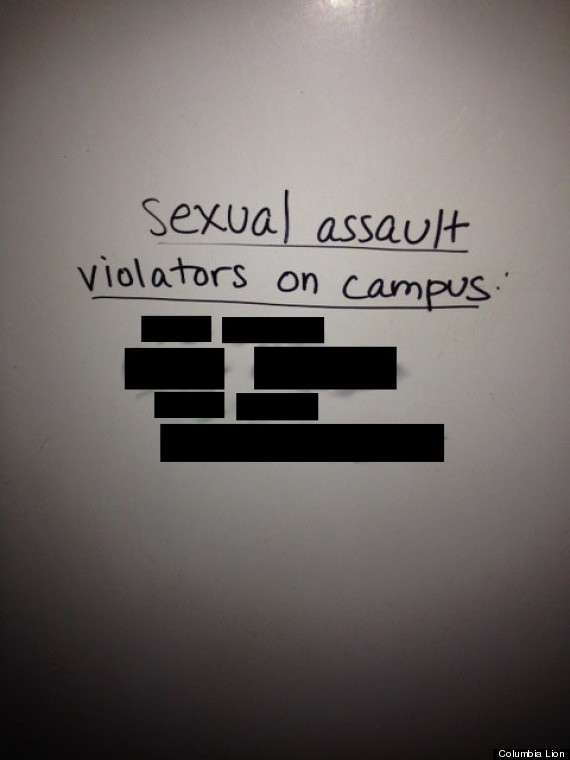 The University, which is among a number of prestigious schools across the country embroiled in controversies over the handling of sexual assault claims, released a statement confirming the existence of the list.
"We were alerted to bathroom graffiti in Hamilton Hall, and Public Safety investigated. Graffiti is routinely removed by Facilities staff," Columbia communications official Daniel Held said.
In April, a group of 23 Columbia and Barnard College students filed three federal complaints accusing administrators of allowing students accused of assault to remain on campus, while discouraging victims from reporting incidents.
The students argued that punishments doled out to perpetrators, many of whom receive just a semester's worth of suspension, were far too lenient.
One complainant described to The New York Times her fear of encountering her assailant on campus -- where he was allowed to return even after admitting to the assault to a formal disciplinary panel, she told the paper.
"Each time I see him, it's really hard, emotionally, and just walking around school, there's this total paranoia that I'm going to run into him," said Columbia sophomore Camila Quarta.
While the university has maintained it is committed to reforms, some students feel administrators are only eager to brush the issue under the rug.
As recently as last month, No Red Tape, a group of student activists, claimed administrators physically blocked them from entering an event where prospective students had gathered.
[h/t @AndreaGarVar]