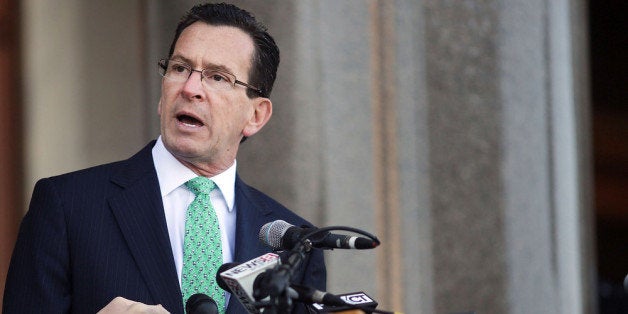 A slight plurality of Connecticut voters say that Gov. Dannel Malloy (D) does not deserve to be reelected, and public opinion is divided on the job he is doing, according to a new survey released by Quinnipiac University.
Furthermore, the progressive governor remains deadlocked with Republican challenger Tom Foley, the man he barely defeated in 2010, at 43 percent.
"It's deja-vu all over again as Connecticut Gov. Dannel Malloy and 2010 Republican standard-bearer Tom Foley remain locked in a dead heat," Douglas Schwartz, the director of the survey, said in a statement.
A spokesperson for the governor's campaign dismissed the poll's findings.
"We have tried to be consistent in not saying much about polls because, what's there to say?" said James Hallinan. "Polls come and go, numbers go up and down. The Governor always does what he thinks is best for the state and the right thing to do."
Malloy's handling of the state's budget and economic issues, including a failed promise to offer $55 tax refunds, are partly responsible for his diminished poll numbers. The survey finds that only 35 percent of voters approve of how he has managed the budget, 32 percent approve of how he has handled taxes and 38 percent approve of how he has handled the economy and jobs.
"The good news for Gov. Malloy is that the negative headlines about his cancellation of the $55 per person tax refund does not seem to affect his overall approval rating or his standing in the governor's race. The bad news is that almost all the Republicans are within single digits of Malloy, with Foley tied and [Danbury Mayor Mark] Boughton and [State Senate Minority Leader John] McKinney on his heels," Schwartz added.
Forty-eight percent of Connecticut voters say Malloy does not deserve reelection, while 44 percent think he does, according to the survey. Voters are also divided on Malloy's job performance, with 48 percent viewing it favorably, compared to 46 percent who view it unfavorably.
The silver lining for Malloy are his personal characteristics, with voters saying, 59 to 36 percent, that he has strong leadership qualities, and that he is honest and trustworthy by 57 to 33 percent.
"Economic issues are dragging Gov. Malloy down," Schwartz said. "A bright spot for Malloy is that voters think he has strong leadership qualities and is honest and trustworthy."
The poll, conducted May 1-6, surveyed 1,668 registered voters and carried a margin of error of +/- 2.4 percentage points.
Correction: This piece originally misspelled Gov. Dannel Malloy's first name.
BEFORE YOU GO
PHOTO GALLERY
United States Governors