 America loves talent competitions: "American Idol," "America's Got Talent," "The Voice," "So You Think You Can Dance?"... the list goes on and on. And yet, plenty of ballad-loving Americans have never heard of the single greatest singing-and-dancing competition in world: "Eurovision."
Each year, European nations (and some off-continent) send their best citizens to the international performance competition. Currently underway in Copenhagen, Denmark, more than 100 million viewers are tuning in to the program globally. The contestants, representing 37 countries, are facing off in two "semi" rounds leading up to the final, which will take place Saturday, May 10.
There's still time to tune in and bask in the glittery glory that is "Eurovision." Here's what you need to know:
It is taken every bit as seriously as you can imagine (and then some).
Yes, Finnish rock 'n' roll cellists are no joke.
First hitting airwaves in 1956, "Eurovision" is one of the longest-running television programs in history.
That's right, this performance by France Gall from the 1965 "Eurovision" still pops in black and white.
Even smaller countries -- like Azerbaijan, Estonia, and Moldova -- get time in the spotlight.
Estonian Getter Janni's little magic trick sure made a big impression at the 2011 "Eurovision."
And with over 30 countries with historic rivalries singing for the honor of their nation, it gets intense.
No second-rate special effects for Moldova in their bid for the 2013 "Eurovision" prize.
The voting process can get a little dicey.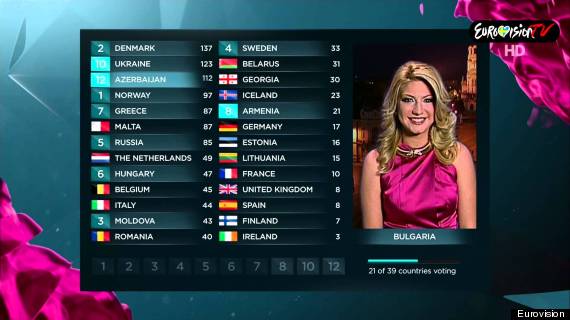 The Eurovision winner is determined by a combination of viewers and experts: 50 percent call-in votes from European citizens and 50 percent from jury votes, with each country assembling its own five-person jury comprised of music industry professionals. While you can't vote for your own country, the panels will often vote in favor of their allied countries with little deviation. (Yes, it can get political.) And you thought the alliances on "Survivor" were high-stakes.
Some entries are big, passionate and inspirational.
Like this heartbreakingly beautiful song by Moran Mazor, as Israel's entry for "Eurovision" 2013.
Some are just plain crazy.
Like Ukraine's performance from 2007.
In fact, the most memorable performances are often the weirdest ones.
Winner of the 2009 "Eurovision," Alexander Rybak of Norway played his violin while his backup dancers performed gymnastics. That's how you earn those votes!
While most countries sing in English, there are still countries that sing in their gorgeous native tongues.
Why yes, these are dancing Russian grandmothers singing in Russian for your enjoyment.
Some of the most prolific artists in the world have graced the "Eurovision" stage.
Like ABBA, Julio Iglesias and Celine Dion, just to name a few.
Not everyone gets to make it to the "Eurovision" finals, which makes the competition even more fierce for a top spot.
Well, except for the United Kingdom, Germany, Spain, France and Italy, who automatically qualify for the final as they are the biggest financial backers of the competition. This Belgian backup dancer from "Eurovision" 2013 is giving those big countries a run for their money, though.
There are plenty of surprises involved, since the show airs live.
Like when this fan jumped onto the stage during Spain's 2010 entry.
And this is year promises to be the most intense "Eurovision" yet...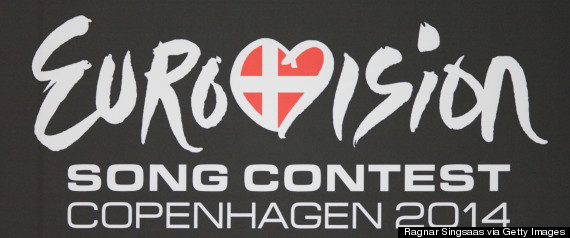 Austria has drag performer Conchita Wurst as its representative, a move that's been hotly contested.
Spain will sing part of its song in English for the first time ever, much to the outrage of some Spaniards.
San Marino, a microstate on the Italian peninsula, has finally qualified for the finals after four failed tries.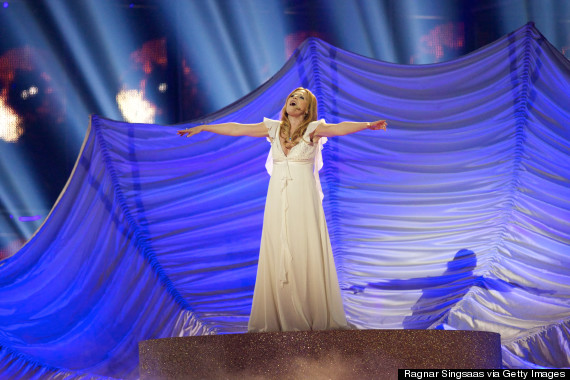 Valentina Monetta will finally get her chance to sing in front of all of Europe.
Then there have been the sheer oddities, like Russia braiding its singers' heads together and having them dance on a seesaw.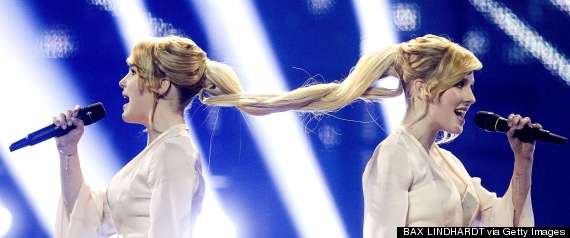 Because why not?
And then there is Ukraine, which decided to go with a giant hamster wheel.
Excited yet? The finals air Saturday, May 10, with what's sure to be a night of big lights, big action and big surprises. Just because America isn't invited to the fabulous party doesn't mean you can't stream the show from across the pond.
BEFORE YOU GO
PHOTO GALLERY
Dancing With The Stars All-Stars Dream Cast