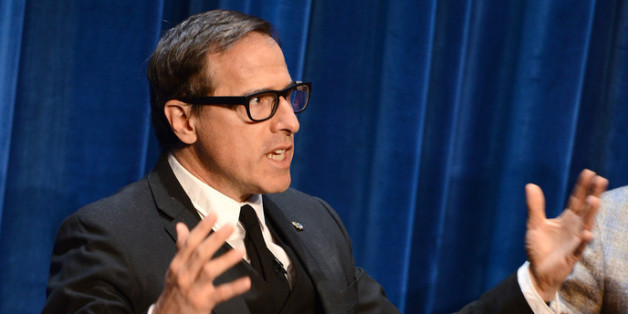 Some of Hollywood's most elite storytellers are raising awareness about mental health issues and battling the stigma the way they know best -- by creating award-winning films and TV shows. And all have a personal stake in the mission.
Producer Brian Grazer ("A Beautiful Mind") and TV showrunner Jason Katims ("Parenthood") both have sons with Asperger syndrome, while director David O. Russell ("Silver Linings Playbook") has a son with bipolar disorder. All three have drawn on their own experiences as fathers of neurodiverse children to show authentic, humorous and positive portrayals of mental illness.
They were gathered together by Dr. Harold Koplewicz of the Child Mind Institute, along with Netflix's chief content officer Ted Sarandos and HuffPost senior editor Willow Bay, at a panel about how blockbuster storytelling can remove the stigma associated with childhood mental health issues. The emotionally raw and candid discussion took place Thursday at the Paley Center for Media in Beverly Hills, California.
Katims, who has garnered critical acclaim for his portrayal of Asperger syndrome on NBC's "Parenthood" series, said he didn't start out to make a statement about mental disorders.
"When I set out to write the story, I really didn't have the goal of raising awareness," said Katims. "It was really just a personal story I needed to tell." But over time, Katims said he realized his show was having a major impact -- not just on the communities directly affected by autism spectrum disorders, but on mainstream audiences who had never heard of the condition before. The "Parenthood" episode in which the character Max Braverman is diagnosed with Asperger syndrome, for instance, resulted in a spike of Google searches for the term, as well as its various misspellings (the unfortunate "ass burgers syndrome"). Parents also reached out to thank Katims for spotlighting the syndrome in a way people can understand, he said.
Russell, meanwhile, was driven to create the Oscar-winning film "Silver Linings Playbook" in part to call out the artificial distinctions that mainstream people make between themselves and those with mental illness. His dive into the Philadelphia Eagles' fan culture for the movie turned up some eyebrow-raising behavior from so-called mentally healthy people.
"In every house I went into in Philadelphia, there was a different crazy Philadelphia Eagles fan," joked Russell to a laughing audience. "The Philadelphia Eagles have the only stadium that has text messages that say, 'If you see a fight near you, text this number.' That's a mental health issue! These guys came here to get their rage out." On a more serious note, Russell credited his son not only for inspiring "Silver Linings Playbook," but for teaching him how to live a better life.
"That [film] was a gift from my son to me, and I would have never made it without him," said Russell.
"He's taught me a cynical attitude -- a depressive attitude -- is one that is simply too extravagant to be afforded in life," said Russell. "It's a luxury. It's an indulgence that can cost you your life."
For those with mental health illnesses, that cost can be literal. Suicide is the third leading cause of death among people ages 10 to 24, and each year about 157,000 youth are treated for self-inflicted injuries, according to the Centers for Disease Control and Prevention.
"It's a massive population that is struggling with this, yet it hasn't gotten the attention that diabetes or cancer has gotten," said Russell. "Storytelling can help do that."

BEFORE YOU GO
PHOTO GALLERY
Celebrities With Bipolar Disorder