For those of us who are on a tight budget this season, beauty and style expert Bobbie Thomas shared several cost-effective tips for re-purposing last season's fashion trends.
Bobbie is a huge fan of recycling the pieces in your closet you love most from previous seasons or looking for classic, "season-less" staple pieces when you shop.
"We are really seeing a great, 'season-less' wave of items in stores today," she said.
Bobbie listed a few great examples of these "season-less" pieces, like a maxi dress in a neutral palette.
"The maxi dresses we saw floating around last summer are back again," Bobbie told us. "Get them in a more sophisticated color like a neutral or organic material, and you can wear it into the winter."
Bobbie suggests pairing a maxi dress with a cardigan for an easy weekend look or adding a sharp blazer for work.
When it comes to accessories, Bobbie's favorite "season-less" item may come as a bit of a surprise.
"It may sound strange for the spring or summer, but I love a good scarf in warmer weather!" she said.
Bobbie will braid or tie her scarf to make it less thick, fluffy and warm in the summer, and then unravel it when the temperature drops.
"You can use a scarf at a barbecue when you're getting too much sun, and then when it's chilly inside because of air conditioning, use it to cover your shoulders," she said.
The options are limitless. From using it as an elegant shrug to wearing it as a protective wrap for your hair on the beach, a scarf is a versatile and inexpensive way to re-purpose a staple piece for any season.
For more of Bobbie's fashion and beauty tips, view the slideshow below:
PHOTO GALLERY
Beauty & Style Tips from Bobbie Thomas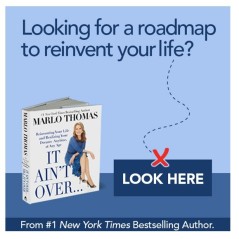 Add Marlo On Facebook:
Follow Marlo on Twitter:
Sign up to receive my email newsletter each week - It will keep you up-to-date on upcoming articles, Mondays with Marlo guests, videos, and more!