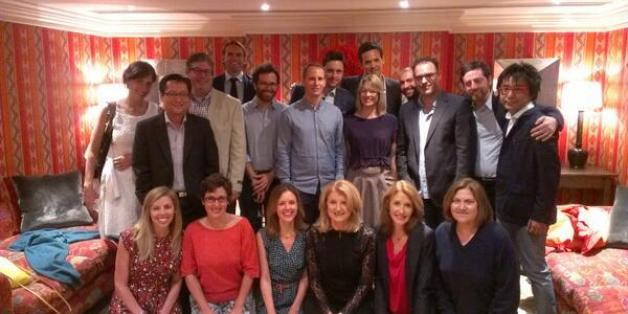 Nine years ago The Huffington Post launched as a single page. Today it has 10 international editions.
Starting in 2011, HuffPost has been expanding around the world. Our two English-language editions in Canada and in the UK launched that year, soon followed by France, Spain and Italy in 2012.
In 2013, we reached Asia, by way of Japan and later that year returned to Europe to launch in Germany. Along the way we landed in Africa with the debut of our Maghreb edition.
So far in 2014 new editions have come to life in Brazil and South Korea.
And there are more countries to come this year. HuffPost India, HuffPost Greece and HuffPost Arabic are next.
Check out what it means for the editorial teams around the world to be part of the HuffPost family.
Kenny Yum, Managing Editor, HuffPost Canada
"As the first international site, HuffPost Canada proved that the site's DNA, how we engage with readers, how they gravitate to our coverage of politics, business, lifestyle, was a huge success. As we hit our third anniversary, we're proud to say that we're true to the HuffPost values and we believe the Canadian media landscape is richer for that."
Patrick White, Managing Editor, HuffPost Québec
"We are very proud that Quebec is part of the HuffPost family. Two years after our launch, we now have 940,000 unique visitors a month and became a news leader recognized by all. HuffPost Quebec has enriched the media landscape, transformed the social media scene here and brought much more diversity of opinions in the province."
Carla Buzasi, Editor in Chief, HuffPost UK
"It's been a real privilege to be a part of the HuffPost family for the past three years. As the first launch outside North America, it really felt like all eyes were on us at launch and I'm so proud of the UK team for rising to the challenge. We're firmly part of the British media scene these days, and no longer the new kid on the block, but with 9,000 British bloggers and counting, the conversations and debates are as lively as on day one."
Anne Sinclair, Editorial Director, HuffPost France
"HuffPost is 9! Nine years old. Just incredible. Usually at nine you are not even a teenager. But HuffPost is a grown up media, successful, accurate and... thriving of course!"
Paul Ackermann, Editor in Chief, HuffPost France
"To be part of the HuffPost family was crucial in our success. The editorial model which gives a voice to the people and puts the reader at the forefront of the news supported by cutting edge tech tools was very innovative in France. Being part of a worldwide network, rich of international points of view on this conception of news has been very important to us."
Gianni Del Vecchio, Editor in Chief, HuffPost Italy
"Being part of HuffPost is being on the right side of history."
Guillermo Rodriguez, Editor in Chief, HuffPost Spain
"Being part of the HuffPost family feels like standing on the shoulders of giants."
Tomoko Nagano, Editor at Large, HuffPost Japan
"We will keep working on creating a life of well-being, wisdom, and wonder with you guys."
Houeida Anouar, Editor in Chief, HuffPost Maghreb
"John Donne once wrote: "No man is an island, entire of itself, every man is a piece of the continent". This is how we feel about belonging to the HuffPost family. We are happy to have the opportunity to cultivate our differences, to be independent and unique in our North African "island", and at the same time, we have the privilege to be part of a diverse, rich and stimulating group across many continents. Our differences are our strength as a global community of editors."
Sebastian Matthes, Editor in Chief, HuffPost Germany
"We are so proud of being part of the growing HuffPost family. It is a great experience to help build a global media brand for the digital age. The fantastic growth of the German edition tells us that it is the right time for a news site for the digital age, a place where we bring together great voices from all over the world along with award winning journalism."
Ricardo Anderáos, Editorial Director, Brasil Post
"The Huffington Post covers above all life. Everything that has to do with real life in this hyper-connected 21st century. Here at Brasil Post we are very excited to be part of this global adventure that helps redefine the scope of journalism."
Dohoon Kim, Co-Editor in Chief, HuffPost Korea
"To be part of the HuffPost family is like being part of an island chain. As I steal and change the famous quote from the film "About A Boy": "every nation is an island." But clearly some nations are island chains, they are connected. I feel utterly connected to the world thanks to the HuffPost family."
Check out their first splashes in the slideshow below.
PHOTO GALLERY
HuffPost in 9 Countries and 1 Region