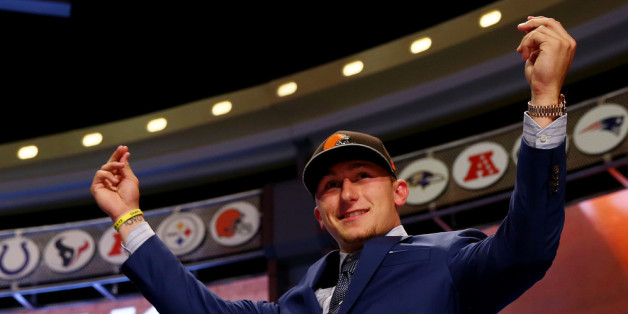 A few simple words from NFL Commissioner Roger Goodell turned #SadManziel back into Johnny Football.
"With the 22nd pick of the 2014 NFL Draft, the Cleveland Browns select Johnny Manziel, quarterback Texas A&M."

Until those words were spoken, the Heisman Trophy-winning quarterback had been stuck in the green room at Radio City Music Hall on Thursday night. As he waited for Goodell to announce his name, ESPN analysts debated his potential landing spots and Twitter commentators wondered what would could possibly happen #BeforeManzielGetsDrafted.
When Manziel finally heard his name called, he didn't appear especially shaken by the delay. He even flashed his signature "money" celebration he took the stage in New York City.
(GIF via @cjzero)