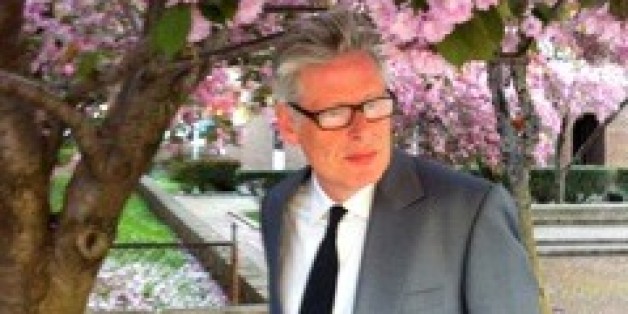 Jamie Midgley, 58, lives his life by pure trial and error. His unconventional entrance into the film industry was nothing shy of extraordinary, but what might be even more impressive is his decision to trade the Hollywood lifestyle for the simple life in rural upstate New York.
Born and raised in the northern English countryside, Midgley knew by age 17 that he didn't want to take over his family's small, private business. After dabbling in boating and hotel management, he realized that while he was unsure of what he wanted to do with his life, he was unlikely to find it in his home country. While vacationing in Greece, a friend called to tell Midgley about a boat leaving for America and suggested he be on it. After an interview with the captain, Midgley found himself working aboard the yacht, en route to Florida.
"I sailed to America with nothing in mind," Midgley told The Huffington Post. "And I never went home."
The unfolding path
After arriving in Boca Raton, Florida, Midgely connected with Tim Bourne, an old friend he met in England who was living in California and working as a cook for actor Jack Nicholson during various movie productions. Their friendship led Midgley to California and then to a movie set in Texas, before he headed back to the East Coast with Bourne as his roommate. He went on to land an assistant editor job with Kanew Manager Deutsch, the top New York company at the time for making movie trailers. He also stood alongside Bourne at his wedding, and was named godfather to his firstborn son.
Adept at making the right personal connections within the film industry, Midgley soon launched a trailer company of his own with young editor Roland Mesa, and the duo received the opportunity to work on Woody Allen's well-received film "Hannah and Her Sisters." Riding the success of that project, Midgley accepted a job with Orion Pictures, an independent production company that distributed much of Allen's work, and returned to California.
He spent several years at Orion as a publicity and marketing manager before leaving to work alongside actor Michael Douglas. It was during their time together that Midgely stopped to consider pursuing his love of photography for the first time. Douglas grandfathered him into the International Cinematographer's Guild and allowed him take photos on his film sets. He shot still photography for a dozen movies after that -- before realizing he didn't just need a new profession, he also needed a change of scenery.
The missing piece
Ever since immigrating to America, Midgley had either shared apartments with friends or lived out of hotel rooms alongside other film crewmembers, and he realized he had yet to call a place in America "home."
"I just wanted to buy a house," he said. "I realized I just wanted the privacy and ownership."
Each time he visited friends in the Hudson River Valley in upstate New York, he felt an overwhelming sense of comfort. The competitive, noisy nature of city life seemed less and less appealing the more time he spent in the spacious countryside. Renting apartment after apartment, he wanted to know what it felt like to own something, not to mention afford it. On a drive upstate with friends one day, he spotted a for-sale sign in the town of High Falls for what eventually became his new home -- a 185-year-old barn being converted into a house.
"I said, 'Oh my God, it looks awful!' but it was a barn in the village," said Midgley. "I didn't want to live at the end of a muddy road -- I wanted to be close enough to town where I could buy a cup of coffee and pick up a copy of The New York Times, and it had huge potential. I put an offer in that weekend, and it was accepted. I thought, 'What the hell have I just done?' because that was the first time I'd ever bought."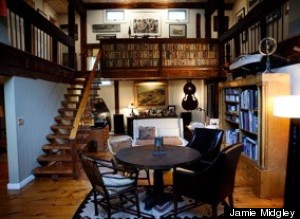 Midgley's home
Midgley settled down in the converted barn almost 12 years ago and hasn't looked back since. He's gone on to complete major renovations on his home, make dear friends in High Falls, and create a lifestyle all his own.
A fresh start
While Midgley's dramatic move was not the result of a moment of desperation, he knew it was time for a change. He was ready to find a place where he could be himself: an artistic, shy person who enjoys focusing intently on one project at a time.
Midgley's rural home sits on a three-acre plot with a pond and a smaller structure he's turned into his personal photography studio. While he still travels to movie sets for day work as a still photographer, he has the freedom to choose the projects he wants and produces all of the photographs from home. When in High Falls, he's working on a small documentary project and selling his prints privately. He can print and frame photos from the comfort of his own property -- and sometimes his pajamas.
"I prefer the quiet of the countryside rather than the hustle and bustle of any city," he said. "I just prefer the space as a creative person to try and do whatever it is I'm supposed to be doing during my life."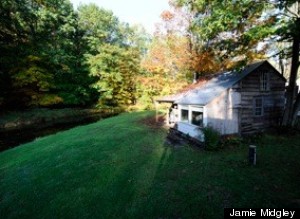 The studio on Midgley's property
While Midgley looks back fondly on his memories working on various film and photography projects in Los Angeles and New York City, he couldn't imagine living in a big city after building his peaceful home in High Falls. Instead of finding joy in securing a highly coveted dinner reservation at one of the city's top restaurants, he watches the first heron of the spring pluck a fish from his pond -- and he truly enjoys it. He hasn't received a direct deposit paycheck in 15 years, but the fulfillment he gained from his move far outweighs the perks of the former life he let go.
"There's actually a lot of sophistication up here -- good restaurants, things to do. I might miss the premiere of a Woody Allen movie, but that's not important to me anymore," said Midgley. "I live a life that is comfortable for me, and I feel I am successful only because I'm actually doing something and enjoying something that I want to do. I'm living in the loft I couldn't afford in Manhattan, and it feels good."
If you or someone you know is taking steps to live a life that's simpler, saner and more fulfilling, we want to hear about it. To submit a Letting Go nomination, email thirdmetric@huffingtonpost.com.