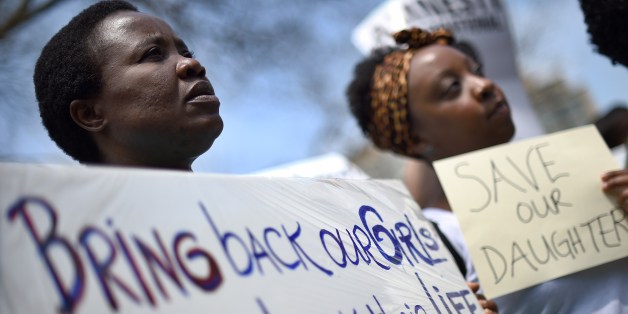 Outrage over the abduction of hundreds of Nigerian school girls by an Islamic extremist group last month is fueling rallies around North America this Mother's Day Weekend, as organizers push to raise awareness and pressure world leaders into action.
Organizers of rallies in Chicago, Boston, Denver, Baltimore, Detroit and elsewhere will join efforts already underway across the globe demanding the release of the girls who were kidnapped from the Chibok Government Girls Secondary School in northeastern Nigeria the night of April 14.
"I went to a federal government college in Nigeria. I understand what that opportunity meant to these girls and their families," Toyin Kolawole, organizer of the rally in Chicago, told the Sun-Times. Kolawole immigrated to the U.S. a decade earlier. The rally in Chicago is expected to draw 1,000 people.
The organizers of a rally held in Boston on Thursday told Boston.com their goal was to raise awareness not just about the missing girls but about the greater threat of Boko Haram.
"Boko Haram is a threat to Nigeria, West Africa, and the world," rally organizer Godwin Nnanna said. "We want these girls to be returned to their families and Boko Haram to be dealt with globally."
Nigerian-born activist Funke Oba told the CBC "nothing like the Boko Haram" existed when she immigrated to Canada in 2011; Oba is now organizing a rally coinciding with Mother's Day on Sunday.
"As Mother's Day approached I just couldn't [help] but think of the mothers, the grandmothers, the sisters, the aunts, who would not be celebrating Mother's Day, who would be grieving and mourning, not knowing the whereabouts of their young girls for three weeks. So we decided that it was fitting on Mother's Day to think of these mothers," Oba said.
Support for the #BringBackOurGirls movement spurred a wave of youth action as well. High school girls in Minneapolis and middle school students in New Orleans who are about the same age as the missing Chibok girls are leading the rally efforts there.
While news of the Chibok kidnappings was slow to trickle out, social media campaigns have helped land the issue on the radars of mainstream media and famous figures like first lady Michelle Obama to and celebrities like Angelina Jolie and Anne Hathaway, all of whom joined the social media-powered #BringBackOurGirls movement.
China, France and Spain pledged support for the recovery efforts on Friday, potentially aiding searches already underway by British and U.S. experts.