Back in the days of analog pornography, naughty cartoons and graphic photography were produced in tangible form. Copied and mass produced in magazines and other collections, the images were to be seen and disregarded, ogled and tossed aside for another pair of hungry eyes. Little attention was paid to the potential aesthetic beauty of the imagery, save for, perhaps, the wandering mind of the late artist Stephen Irwin.
Irwin was known for his work "erasing" pornography of yore, censoring sexy sights until only bits like limbs and hair remained. Transforming perishable eye candy into gallery-worthy works of art, he pushed the strategies of readymade and appropriation artists to the limits. He was one of the rare few who was intrigued by the minute details of retro porn, not the acts depicted.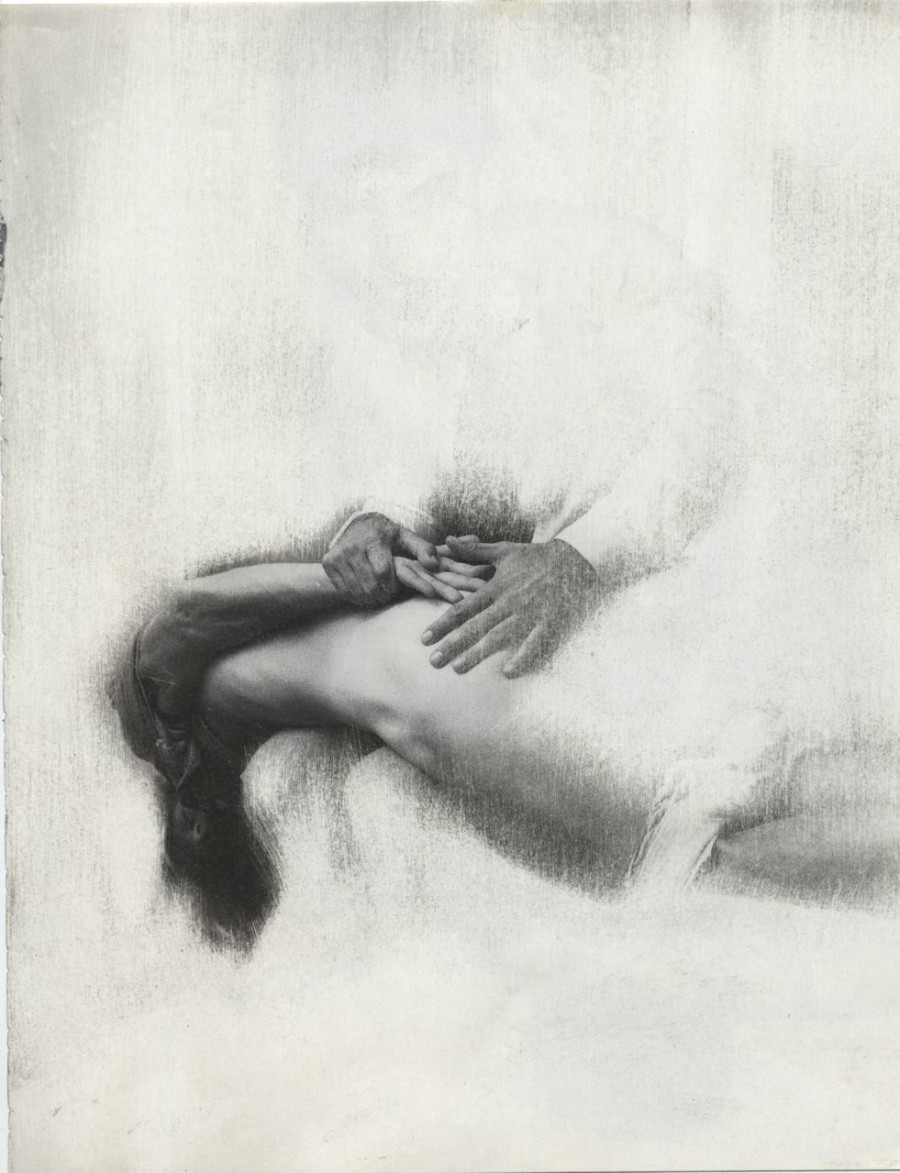 Irwin enjoyed slicing up the blissful moments encapsulated in erotica, boiling them down to their most essential elements. From a clenched fist to a mouth agape, he valued the almost unrecognizable aspects of lust. Stripping pornographic found images of the sex they exclusively aim to purvey, he brought an unexpected dose of intimacy to the artworks, replacing obscenity with obscurity in an equally tantalizing manner.
"The real intrigue in Irwin's work lies in what's been added rather than removed," Art F City's Paddy Smith wrote of Irwin's work in The L Magazine. "The artist's handling of the material is so careful and masterful, you almost forgot to consider whose cock is being put where. And like good sex, it is the complete immersion in its execution that creates the most memorable moments in this show."
"Irwin can be seen as something of an appropriation artist who doesn't restrict himself to merely appropriating, a found-object artist for whom the finding is only half the fun," Invisible Exports gallery wrote in a statement about "Sometimes When We Touch," Irwin's past solo exhibition.
Irwin's talent for radically altering pornography makes it nearly impossible to differentiate between painting, drawing and photography, resulting in dreamy and ephemeral puzzles that keep us intrigued for much longer than a page out of a dirty magazine ever could. See a selection of the Kentucky-born artist's work here and let us know your thoughts on the reinvented renderings in the comments.
PHOTO GALLERY
Stephen Irwin
BEFORE YOU GO
PHOTO GALLERY
Wangechi Mutu