A recent peek into the archives at The Field Museum in Chicago reveal that when it came to celebrating springtime flora, few people were more enthusiastic than the members of the Progressive Era's Wildflower Preservation Society.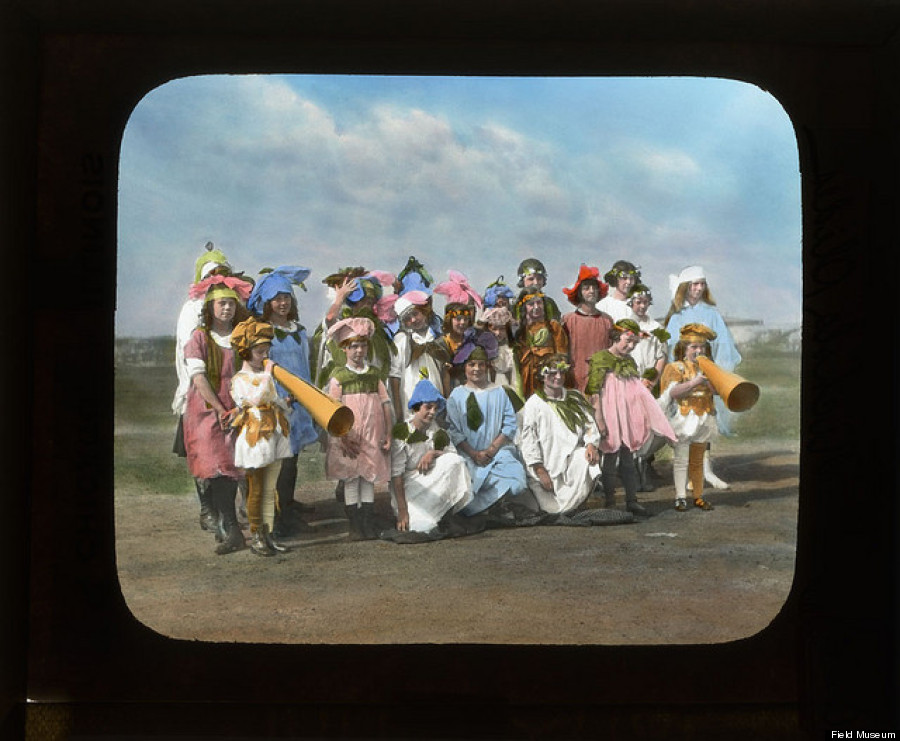 Vintage photos on hand-painted lantern slides caught the eye of Slate's history buffs on Wednesday, so HuffPost reached out to to museum to learn more about the curious and bizarrely beautiful collection.
"There are no records for exactly when the 'Flower Children' slides came to The Field Museum, so that they are dated 'circa 1920,'" explained Nina Cummings, photo archivist for the Field Museum. Cummings said at least one eagle-eyed viewer has suggested to the museum that based on the style of clothing in the photos, the images may have actually been made circa 1900-1910.
Lantern slides were first introduced in 1849, about a decade after the invention of modern photography. According to the Library of Congress, a large format transparent slide could be projected on to different surfaces, "changing it from an intimate medium to one that was appropriate to entertainment and educational purposes."
Calling them the "pre-pre cursor to Power Point slides" that also pre-dated 35mm color slides, Cummings said the Lantern slide-making process included printing a negative onto a thin sheet of glass and, once the black and white image dried, hand-painting the slide to "colorize" it.
Evidenced by the photos below, the effect lands somewhere between ethereal and eerie -- not quite "doll room in a haunted mansion" level creepy, but more than a few levels beyond bizarre.
As for the children in the photos, they were dressed for an event for the Chicago chapter of The Wildflower Preservation Society. As Slate notes, the Wildflower Preservation Society was founded at the New York Botanical Garden in 1902 with the goal of promoting "love of flowers and of nature through preserving tracts of land and planning educational events."
Now that winter is firmly in the rearview, here's a look the Wildflower Preservation Society's littlest members welcoming spring in style.