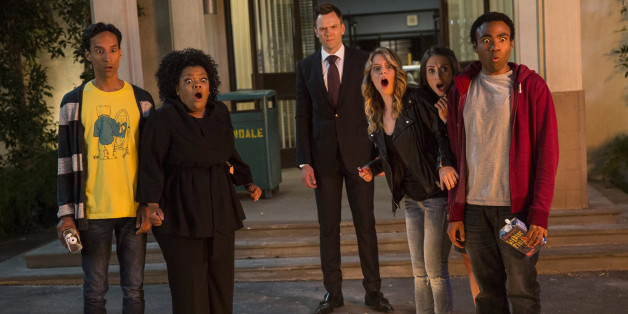 As Of Sunday, May 11, the #SixSeasonsAndAMovie "Community" dream is officially dead ... or, at least, will not be aided by Netflix.
After NBC announced the show's cancellation last week, fans rallied to resurrect it via the streaming-service. Led by a user on the Reddit "Community" board, "thousands" of fans ambushed Netflix live chats, in an attempt to have them pick up the show.
"We survived the Season 3 Hiatus, we survived the firing of Dan Harmon, we can survive cancellation. We need to collectively contact Netflix about this show," reads a post, written by one FlyinNinjaSqurl.
WE'RE GETTING THROUGH GUYS KEEP GOING #SaveCommunity #thedarkesttimeline @netflix @Netflix_CA @Netflixhelps pic.twitter.com/fwlANLIeja

— Jacob Allen (@49ccSwag) May 11, 2014
Apparently, customer service agents who were probably really bored anyway enjoyed the effort, even responding with relevant hash tags, such as #SaveGreendale. However, the site will not be making any serious moves to do so. A Netflix rep told Variety that they are not, in fact, entertaining negotiations to pick up the show.
That said, as Maureen Ryan wrote for Huff Post TV, even without NBC (or Netflix!) "Community" has a shot at it's #SixSeasonsAndAMovie goal through other streaming services, like Amazon Prime or Hulu Plus.
"Arrested Development" was resurrected from the dead, seven years after its cancellation and, of course, there is the encouraging example of the crowd-funded "Veronica Mars" movie. And, as a quick search for the #SaveCommunity hash tag will reveal, if there's another cult favorite that has the power to be brought back to life through the powers of the Internet, the "Community" community can make it happen.
The most important thing these next few days is for us to remain vigilant and retain our hope. If we fight together we can #SaveCommunity

— Save Greendale (@SaveGC) May 11, 2014
hey @netflix: #SaveCommunity #OneMoreSeasonAndAMovie

— Questlove Gomez (@questlove) May 10, 2014
@netflix #SaveStarCrossed #SaveCommunity please both fandoms are begging you we're all so dedicated😭🙏❤️

— kim♡(3) (@neenzlooch) May 11, 2014
#SaveCommunity @netflix @hulu @Netflix_SE pic.twitter.com/SZHDSszaYL

— BM. (@Bergmattsson) May 11, 2014
BEFORE YOU GO
PHOTO GALLERY
Community Season 5