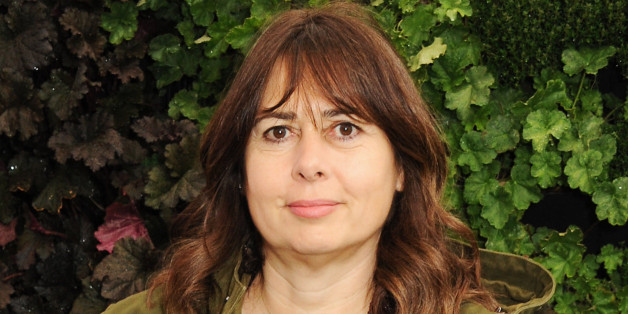 The fashion industry is constantly accused of promoting unhealthy body ideals, crash diets and eating disorders. This is not news. But editors of major magazines fighting against a long history of unrealistic body standards is. Meet, Alexandra Shulman, the latest editor speaking out against one of the major issues facing the style world.
According to the British Vogue editor-in-chief, there's been a history of no-eating in her line of work, and she's fed up. In an interview with The New Potato, Shulman spoke out against people's obsession with "health crazes" involving food. She starts with a solid, outright negative view against trendy diets. "I'm really, horribly uninterested in it. I'm quite anti-crazes, full stop. Particularly where it has to do with food," Shulman says.
Shulman then goes on to tell a rather disturbing story about a recent dinner she attended:
"I sat next to somebody at a dinner the other day and she'd already only gotten a salad rather than the food, and she was barely eating the salad. I said 'Well, you're not eating,' and she said 'Oh I ate the children's tea.' That's always the excuse: 'I've eaten the children's tea.'"
But, the legendary editor doesn't stop there -- pointing out that the people who work with her in the fashion and journalism industries have fallen victim to being obsessed with what they do and don't eat. Shulman notes that this is not only problematic for the people themselves, but for the friends and family around them.
"I also think it's a really bad example. I've watched contemporaries of mine and the way they behave around food. They've got teenage girls; are they then surprised if their children have eating disorders?"
While it is interesting to see what a high-profile editor has to say about the matter, this isn't the first time Shulman has touched upon eating problems. She once told a U.K.-based radio station that her mother had her on a "no-potato" diet at the young age of 10. And although she doesn't like diet features in her magazine, she was recently in the spotlight for her thoughts on thin models in magazines.
Though there has been a concerted effort to stop the promotion of unhealthy eating habits in the fashion industry, a couple of years ago Vogue started the Health Initiative while the CFDA has highlighted its fight to promote a healthy lifestyle, we still have a long way to go. But with major players like Alexandra Shulman speaking out against such activities, will fashion shift towards a healthier outlook? We sure hope so.
Read more of Alexandra Shulman's interview with The New Potato, here.
BEFORE YOU GO
PHOTO GALLERY
Vintage Vogue Covers