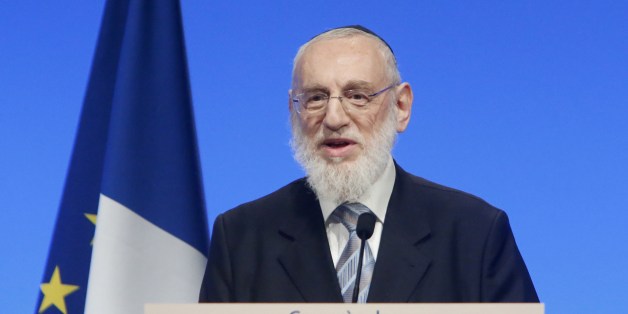 France's Chief Rabbi Michel Gugenheim has been accused of extorting $120,000 from a woman seeking his signature for a religious divorce, L'Express reported.
The woman's family has accused Gugenheim and other members of his rabbinical court of pressuring the 28-year-old to write a check for $120,000 as a donation to the Sinai religious institution, saying 66% of the donation would be returned as a tax deduction.
From the check, $41,310 would be delivered to the husband per his demands for what Gugenheim reportedly referred to as "the price of her freedom."
The family of the woman, who is not being identified, reportedly made a secret recording during their appearance at Gugenheim's rabbinical court on March 18 and have threatened to release the video as evidence unless their check is returned.
The woman's brother told L'Express: "Michel Gugenheim authorized this. He favors this extortion of funds."
Gugenheim denies the charges, however, and blames the family for blackmailing his court.
"My only error was to not recognize the excessive and provocative attitude of this family," Gugenheim told L'Express. "This is a ruse to undermine the Paris Beth Din."
Under Jewish law, a couple can only get a divorce when the husband delivers a "get" to the wife releasing her from the bonds of marriage. The get must be written by an expert, then dated, signed and delivered in front of a rabbinical court.
Both parties must consent to the divorce, but cases of extortion and blackmail are not entirely uncommon. Two New York brothers admitted in March to a plot to kidnap, beat and coerce an Orthodox Jewish husband who had refused to give his wife a divorce. They also admitted to assaulting another recalcitrant husband in 2011 to force him to deliver a get to his wife.
BEFORE YOU GO
PHOTO GALLERY
Orthodox Jews