Behold, the cover art for "World Peace Is None Of Your Business," the title track and lead single off Morrissey's upcoming album of the same name. Note that Morrissey appears to have written the name of the song with an orange marker, before taunting a dog, or at least telling that dog that world peace is none of its business.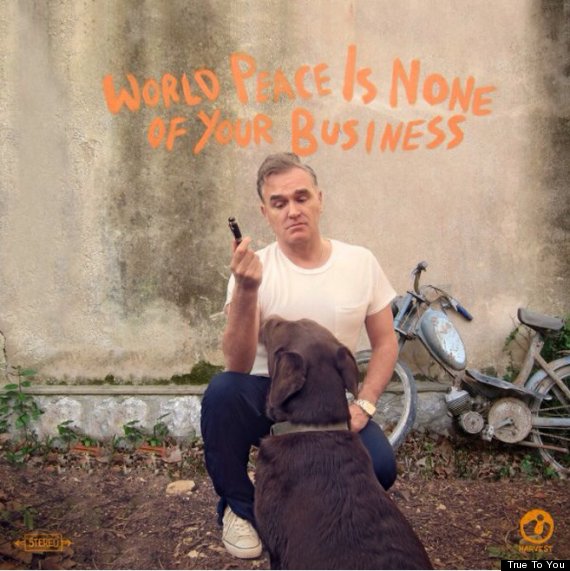 This release comes after some struggles to promote "World Peace Is None Of Your Business" the album, due out via Capitol in July. While touring, everyone's favorite emotional vegetarian has both been attacked by aggressive huggers on stage and gotten into a fight with two bands, including PAWS, who has since written that the 54-year-old was "acting like a baby throwing toys from a pram."
In any case, Morrissey has said he is "ecstatic" for the 12-track album, produced by Joe Chiccarelli, which includes a variety of Morrissey-esque themes, celebrating both Neal Cassady ("Neal Cassady Drops Dead") and Istanbul, which is his "most favorite city in the world."
As for that titular single, here's a preview, which Morrissey previously debuted in concert. Check out the "World Peace Is Not Of Your Business" tracklisting below, and we'll add a better quality version song when it's officially released tomorrow, May 13.
World Peace Is None of Your Business tracklisting:
1. "World Peace Is None of Your Business"
2. "Neal Cassady Drops Dead"
3. "Istanbul"
4. "I'm Not a Man"
5. "Earth Is the Loneliest Planet"
6. "Staircase at the University"
7. "The Bullfighter Dies"
8. "Kiss Me a Lot"
9. "Smiler With Knife"
10. "Kick the Bride Down the Aisle"
11. "Mountjoy"
12. "Oboe Concerto"

BEFORE YOU GO
PHOTO GALLERY
Celebrity News & Photos