MYX NYC's "Naked Eye Celebrity Camera Auction" is back with the disposable cameras from over 150 celebrities for you to bid on and thereby receive an unfiltered, insider's glimpse into the lives of these actors, models, musicians, photographers, writers and performers.
This year's project features the cameras of celebrities including actors like James Franco, Parker Posey, Amy Sedaris and Joseph Gordon-Levitt, as well as queer faves including Pandora Boxx, Catherine Opie, Lady Bunny and Dan Bucatinsky. Each celebrity involved has filled up a disposable camera with a variety of images from their lives to be auctioned off. By offering the winning bidders the camera's undeveloped negatives, organizers hope to give fans the ability to create unique and one-of-a-kind photographic artwork. Though we don't know exactly what is on any of the cameras, we do know, for instance, that Lea DeLaria's camera is filled with behind-the-scenes photos from the set of "Orange is the New Black" and Jesse Tyler Ferguson's photos were taken on the set of "Modern Family."
The bidding launches today and will run through May 22.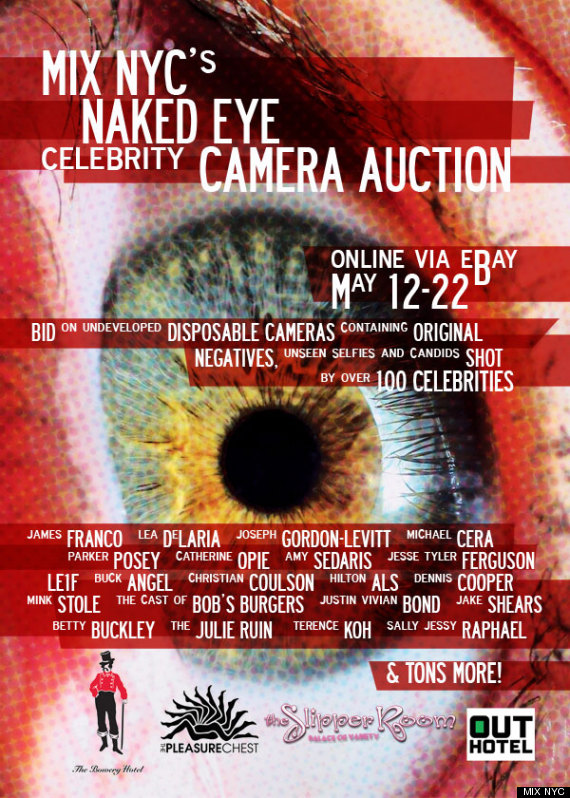 In conjunction with the "Naked Eye Celebrity Camera Auction," MIX NYC is hosting a kickoff party and benefits show, hosted by "RuPaul's Drag Race" season six runner-up Alaska Thunderfuck. Tickets to the event are available here, with the kickoff party taking place at New York's The Slipper Ballroom. Check out the flyer below for more information and head here to bid on the celebrities' cameras.