Happy Mother's Day, indeed!
When Daley and Alicia Welsh ate at the Carino Japanese Bistro in Canada, they brought their own high chair to the small, non-kid-friendly restaurant, and cleaned up after their daughter, Evie. When the check came, they noticed $5.00 was subtracted from the bill for a "well-behaved kids" discount.
The couple enjoyed eating out before having their almost 1-year-old daughter, and vowed to be mindful of the places they visited once she was born. But they had no idea that their consideration would save them money.
(Story continues below photo)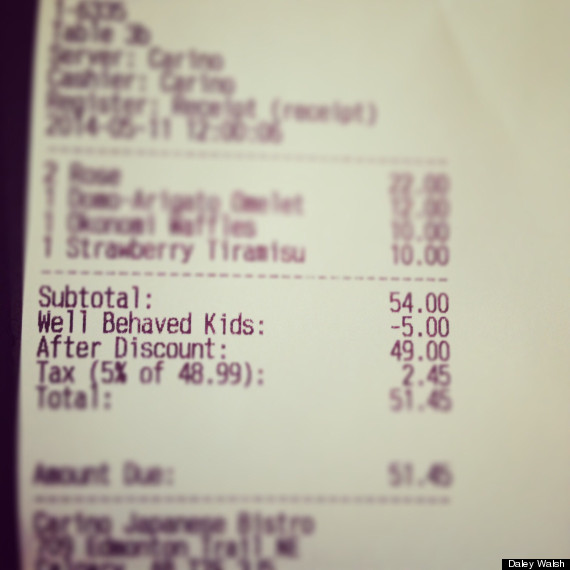 Carino Japanese Bistro might have taken its cue from another understanding restaurant who offered the same discount last February. The appreciative parents posted a photo of their receipt to Reddit at the time, and their story went viral.
Eating out with kids is not an easy feat. And as these restaurants know, praise can go a long way.
"It was that little piece of recognition on Mother's Day that meant so much," Daley said.
BEFORE YOU GO
PHOTO GALLERY
Outrageous Receipts (EXPLICIT LANGUAGE)