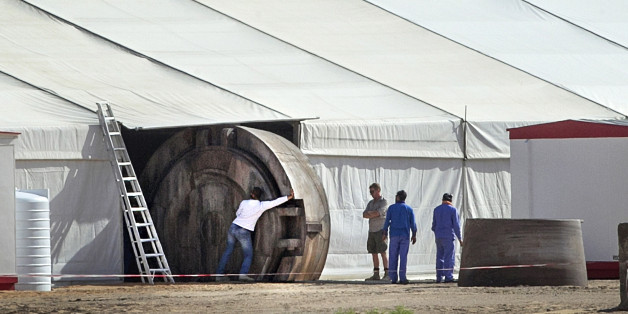 Nearly four weeks after photos from the Abu Dhabi set of "Star Wars: Episode VII" wound up on the Internet, The National reports that J.J. Abrams will apparently film some key scenes in the United Arab Emirates capital beginning on May 13.
The publication, through unnamed sources, has revealed that the Abu Dhabi set includes "shuttle-like" spacecraft, a "centuries-old-looking market" and "really fast buggies" that might be landspeeders. It had been assumed that Abu Dhabi would fill in for Tatooine, Luke Skywalker's home plant in "Star Wars: Episode IV - A New Hope." Last month, Disney chairman Alan Horn said Abu Dhabi was being used for second-unit work.
In other "Star Wars" news, Entertainment Weekly reporter Anthony Breznican wrote last week that Harrison Ford's Han Solo is considered a co-lead in the film. He'll be joined by three other main cast members in the core group for "Episode VII," though which younger stars (John Boyega, Daisy Ridley, Oscar Isaac, Domhnall Gleeson and a still-uncast major female role) is unclear. According to Breznican, both Mark Hamill and Carrie Fisher will also have "significant" roles. (The Entertainment Weekly story is not yet online, but Breznican has more on Ford and "Star Wars" in this essay for the magazine's website.)
For more on the Abu Dhabi shoot, head to The National.
BEFORE YOU GO
PHOTO GALLERY
Celebrity News & Photos