It's Monday, so why not ring in the week with a pint of your favorite microbrew (Schlafly ::cough:: ::cough::)? Happy American Craft Beer week. This is THE MORNING EMAIL for Monday, May 12, 2014.
The Scuttlebutt
TOP STORIES
KREMLIN: WE SUPPORT UKRAINE'S SECESSION REFERENDUM
"The Kremlin said Monday it respects the secession referendum in eastern Ukraine and hopes for a 'civilized implementation' of the results through talks between Kiev and representatives in the east. Pro-Russian separatists declared victory in Sunday's vote, ratcheting up tensions between the West and Moscow. In its first comments since the referendum, the Kremlin appears to challenge the West and Kiev's standpoint that it was illegitimate." And as the tension grows, here's a graphic breakdown of Ukraine's "nervous neighbors." [WSJ]
BOKO HARAM LEADER: SCHOOLGIRLS FOR MILITANTS
"The leader of the Nigerian Islamist rebel group Boko Haram has said he will release more than 200 schoolgirls abducted by his fighters last month in exchange for prisoners, according to a video seen by Agence France-Presse on Monday." Watch a clip from the video, in which the girls are said to be converted to Islam. [Reuters]
DONALD STERLING: 'I WAS BAITED … I AM ASKING FOR FORGIVENESS'
"Los Angeles Clippers owner Donald Sterling says he's sorry but feels he was 'baited' to make racist comments, nearly two weeks after the NBA fined him and banned him for life for his remarks in a recorded conversation." Donald goes on to say he was just jealous of his girlfriend's attraction to black men. You can watch preview clips of his interview with Anderson Cooper tonight here. [CNN]
STATESIDE: Tornado Weather Continues

Texting is being employed in hostage negotiations. Police have found the body of the third victim of the fiery hot air balloon crash in Virginia. Net neutrality may not be totally dead: the head of the FCC is revising the unpopular policy to create "internet lanes." Defense Secretary Chuck Hagel said he might reconsider the military's ban of transgender people. And most of America is on alert today for tornados, as the spring's crop of severe weather continues.
In Mother's Day fail news, all these little boys wanted to do was surprise their mom with breakfast in bed.
INTERNATIONAL INTRIGUE: Buy Dracula's Castle
A South Korean official said North Korea "must disappear soon." China might build an underwater train that connects to the U.S. Iran says it is ready to test a clone of the American drone it captured in 2011. And Dracula's castle is for sale. Happy hunting.
In aquariam pram news, here's how you can walk your fish.
BUY! SELL! BUY! iPhone 6 Anticipation
Those barefoot running shoes are not only ugly, they may not work. Ever had a flight delayed or canceled? Airlines actually owe you damages, and this website will help you get your money back. Before you buy another lightbulb, check out this guide of the best ones. And the iPhone 6 is coming sooner than you think.
In forget raves news, sober dance parties are all the rage in Williamsburg.
SCOUTING REPORT: Deadly Pitches

Michael Sam is determined to prove he can play football. Meet Sam's boyfriend, who was one half of the kiss seen around the world. Vladimir Putin isn't half bad at hockey, but it always helps when everyone is too afraid to guard you.The best advice you can give to your buddy who just got drafted to the NFL? Get a real job. And this is what a killer pitch looks like. [Image via Grantland]
In woodland critter news, here's one racoon that just wants to be a puppy.
CULTURE CATCH-UP: These Abs Are Worth Bookoo Bucks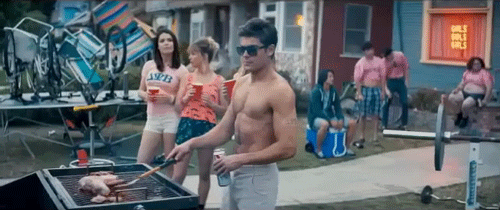 "Neighbors" made a massive haul this weekend, attracting an exceptionally large number of women for an R-rated comedy -- Zac Efron's abs definitely had NOTHING to do with it. With all the Monica Lewinsky hubabaloo, here's a where-are-they-now look at the people at the center of Washington's biggest scandals. Check out all the trailers for NBC's fall lineup. And here is the final listing of whether or not your favorite TV show was canceled. RIP "Crazy Ones."
In pathfinding news, here's how ants can help you find your way home.
LIVIN': Epic Parenting Lifehacks
It's 3 a.m., you're still up working on that big project due tomorrow, and cookie dough ice cream is calling your name. Here's how to summon the willpower to put down that spoon. These ingenious parenting lifehacks will make child rearing slightly less arduous. Don't start these bad habits for the sake of your brain's health. And did your mom critique your outfit, hair, makeup, or all of the above this weekend? It's actually a sign of love (we think).
In "Love is An Open Door" news, here's a little boy proposing to Elsa.
OTHER PEOPLE'S BUSINESS: Gaze of Steel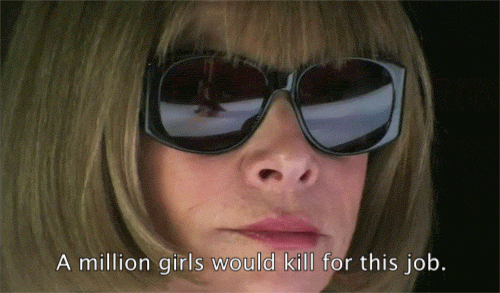 Of course this is what Kanye got Kim for Mother's Day. Scarlett Johansson looks absolutely radiant with that baby bump glow. Chris Brown better get used to that orange jumpsuit after receiving his sentence for breaking probation last year. Ann Curry's fortunate Boy Scout Troop 368 found her after she broke her ankle hiking. And he can't make it work: Tim Gunn said the following about Anna Wintour after an alleged elevator incident: "I don't look her in the eyes, because I will be turned into stone."
In sisterly love news, these twins were born holding hands.
TWITTERATI
@KenJennings: I just spent an hour reading a real interesting book and not a single person saw. :(
@SInow: Watch: Father snags foul ball without dropping toddler: http://on.si.com/1mMxFvc (via SI_ExtraMustard) pic.twitter.com/w2CHkDxbR7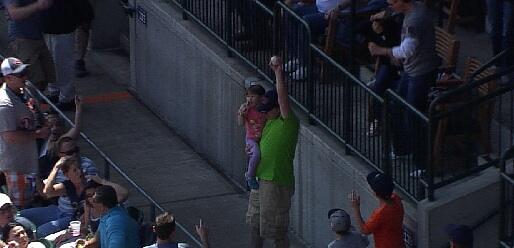 @GoT_Arya: Go give your mother a big hug, you never know when George R.R. martin may unexpectedly kill her off. #WesterosProblems
@RonanFarrow: Almost half of working American women have no access to any kind of maternity leave - even unpaid. Happy Mother's Day!!
@HistoryInPics: Muhammad Ali's hands after Cooper fight, 1966. Photo by Gordon Parks. pic.twitter.com/dfP7ynGk8s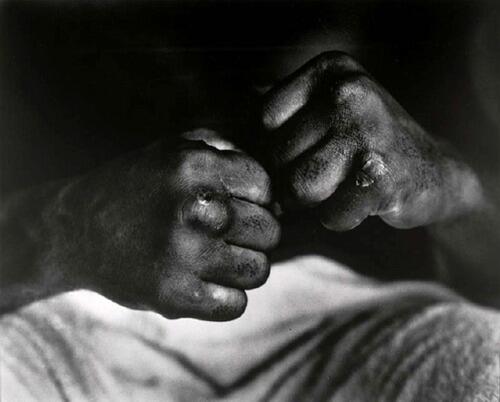 ONE MORE THING
Since it's strawberry season, here are 41 scrumptious dessert recipes we're way too excited about. S'more strawberries anyone?
Got something to add? Send tips/quips/quotes/stories/photos/events/scoops to Lauren Weber (lauren.weber@huffingtonpost.com). Follow us on Twitter (@LaurenWeberHP). Does somebody keep forwarding you this newsletter? Get your own copy. It's free! Sign up here.