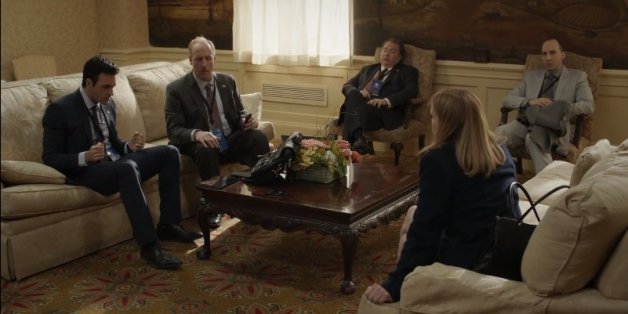 Selina Meyer's daughter Catherine took home the gold in this week's "Veep" diss rankings. She may not have had the most one-liners, but her sucker punch pushed her over the edge into obese gun fanatic famehood. That scene coupled with Chris Meloni's guest appearance as Ray, Selina's play thing/ personal trainer, made "Veep" Season 3 Episode 6 the best installation yet. Check out the best lines from "Detroit" and try not to hate on the Finnish.
Selina Meyer
Time to lose your fiscal cherry!
I haven't bent this far since I was five centimeters dilated.
That Finnish f-f-f-fart!
I need R and R. I need rest. I need Ray-creation.
In your country, people fuck snow and I hope you understand that I say that with the utmost respect.
Dan Egan
Catherine, I can't send Mike and Ben to Coachella. But you, you're hip. You're deck. Deck's a thing, right?
Mike, why would you send me this shit? You might as well have just sat on the fucking keyboard and sent me that.
Ma'am, you need to be conservative and liberal. Look at guns but don't touch guns. Don't even say the word "gun."
Amy Brookheimer
I look tense because, well, 1. I have broad shoulders and 2. that's the job.
The entourage is getting way too big. We are only days away from an omelette chef and a piano tuner.
Mike McLintock
Jonah, come here. Sometimes I feel like there's a nine-year-old boy inside of you just operating the levers.
Talk about the GDP. Nobody knows what that means.
Catherine Meyer
Mom, not the help. Geezus, that's tacky.
This is really nice, working together as a family. I actually enjoyed the gun show. Once I got used to all the regular people and how fat they were I really enjoyed it.
Gary Walsh
You're going to be like the fairy jobmother.
Jonah Ryan
BEFORE YOU GO