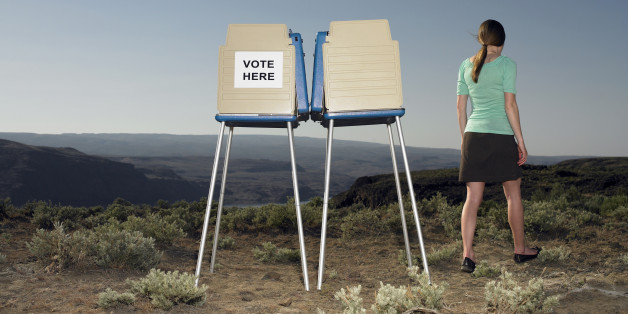 Gallup finds less enthusiasm about the elections than in past years, but Republicans still enjoy an advantage. Another batch of polls finds Democratic Senate candidates leading or competitive in three Southern states. And, sure, why not poll on whether owls exist? This is HuffPollster for Monday, May 12, 2014.
VOTER ENTHUSIASM SINKS - Jeffrey M. Jones: "A majority of U.S. registered voters, 53%, say they are less enthusiastic about voting than in previous elections, while 35% are more enthusiastic. This 18-percentage-point enthusiasm deficit is larger than what Gallup has measured in prior midterm election years, particularly in 2010 when there was record midterm enthusiasm. Among registered voters, 42% of Republicans and Republican-leaning independents currently say they are more enthusiastic than usual about voting, while 50% are less enthusiastic, resulting in an eight-point enthusiasm deficit. But Democrats are even less enthusiastic, with a 23-point deficit (32% more enthusiastic vs. 55% less enthusiastic). Typically, the party whose supporters have an advantage in enthusiasm has done better in midterm elections. Republicans had decided advantages in enthusiasm in 1994, 2002, and especially 2010 -- years in which they won control of the House of Representatives or expanded on their existing majority." [Gallup]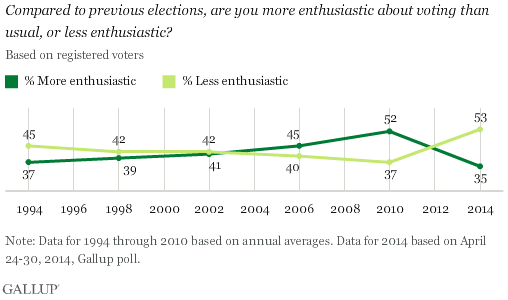 DEMS COMPETITIVE IN THREE SOUTHERN STATES - HuffPollster: "For Democrats dispirited by the recent wave of gloomy midterm numbers for their party, an NBC/Marist poll released Monday offers a welcome respite. While Americans are dissatisfied and the president remains deeply unpopular, the survey finds Democrats to be competitive in three key Southern races: Arkansas, Georgia and Kentucky. Sen. Mark Pryor (D-Ark.), considered one of the cycle's most vulnerable incumbents, has a 50-percent favorability rating in the poll, and leads Rep. Tom Cotton (R-Ark.) by 11 points among voters, 51 to 40 percent….NBC/Marist also gives Democrats a legitimate shot at a pickup of the open U.S. Senate seat in Georgia, currently held by retiring Sen. Saxby Chambliss (R-Ga.)....In Kentucky, another of the few possible pickup opportunities for Democrats, the poll shows Senate Minority Leader Mitch McConnell essentially tied with Democratic challenger Alison Lundergan Grimes, 46 percent to 45 percent." [HuffPost]
Another poll has even better numbers for Nunn - Alex Lazar: "The Atlanta Journal Constitution poll has Nunn beating Rep. Phil Gingrey (R) by 15 points, Rep. Paul Broun (R) by 13 points, Rep Jack Kingston (R) by 10 points and former Georgia Republican Secretary of State Karen Handel by 8 points. Her closest competition is with Republican businessman David Perdue, the leading candidate in the Republican primary, over whom Nunn has a 1-point edge -- within the poll's margin of error." [HuffPost]
-Jonathan Bernstein on Arkansas - "Be very careful about overinterpreting these results. First, it's still very early in the cycle. Senate forecasting modelers agree: Polls are weak signals early in the election year, but by October a good polling average is all that's needed to predict winners...This is a very good number for Pryor, but it tells us nothing conclusive about what will happen in November, or even what is happening now." [Bloomberg]
-Nate Cohn on Kentucky: "Grimes is so close because she's winning a lot of Bevin supporters and tea partiers. Can that really hold?" [@Nate_Cohn linking to NYTimes]
KENTUCKY: NEGATIVES LOWER FOR 'KYNECT' THAN 'OBAMACARE' - First Read: "When it comes to views of the new health care law, sometimes it's all in a name. In Kentucky, our NBC-Marist poll found that 57% of registered voters have an unfavorable view of "Obamacare," the shorthand commonly used to label the 2010 Affordable Care Act. That's compared with only 33% who give it a thumbs up -- hardly surprising in a state where the president's approval rating hovers just above 30%. By comparison, when Kentucky voters were asked to give their impression of kynect, the state exchange created as a result of the health care law, the picture was quite different. A plurality -- 29% -- said they have a favorable impression of kynect, compared to 22% who said they view the system unfavorably. Twenty seven percent said they hadn't heard of kynect, and an additional 21% said they were unsure." [NBC News]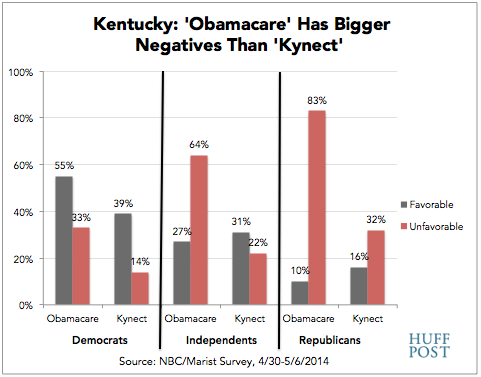 Effect especially pronounced among GOP - HuffPollster: "The biggest difference in views of the two programs comes among Republicans. The percentage of GOP respondents who were unfavorable toward Obamacare was 51 percentage points higher than the percentage who felt that way about Kynect. That margin was 42 points for independents and 18 points for Democrats." [HuffPost]
CHECKING KAREEM: DO MORE AMERICANS BELIEVE IN GHOSTS THAN RACISM? - Emily Swanson: "Kareem Abdul-Jabbar made waves [a week ago] Sunday when he said 'more whites believe in ghosts than believe in racism.' But a new HuffPost/YouGov poll shows that statement is not true....Overall, 79 percent of Americans in the poll said "racism is still a problem in American life," while only 16 percent said it was not. Among white Americans, 77 percent said racism is a problem, with 18 percent saying it is not. In fact, 57 percent of Americans, including 58 percent of white Americans, said they know someone who is racist. By contrast, only 40 percent of Americans, and 38 percent of white Americans, said they believe in ghosts." [HuffPost]
WHY POLL CLIMATE CHANGE SKEPTICISM? - John Oliver's slightly NSFW argument in favor of "a statistically representative climate change debate" includes this critique of polls that measure climate change skepticism: "You don't need people's opinions on a fact. You might as well have a poll asking, 'which number is bigger, 15 or 5?' Or 'do owls exist?' Or 'are there hats?'...The only accurate way to report that one out of four Americans are skeptical of global warming is to say, 'a poll finds that 1 out of 4 Americans are wrong about something.'" [LastWeekTonight]
STUART ROTHENBERG HAS SOME THOUGHTS ON ELECTION ANALYSIS - Rothenberg: "My new statistical model of the open Wisconsin Senate seat suggests that Democrats now have only a 54.496 percent chance of holding the seat. That's a dramatic change from just three weeks ago, when my model showed them with a 55.501 percent chance. The change results from three main developments: (1) changes in the national generic ballot that are likely to filter down the ballot, (2) changes in my turnout model, specifically among voters with Scandinavian surnames, and (3) the unexpected development that Pisces has entered the House of Scorpio, indicating an increasing sexual energy that should benefit Republicans, who have had a long-term advantage with macho male voters....The Rothenberg Political Report/Roll Call rates the Wisconsin Senate race 'We Haven't a Clue.'" [Roll Call]
WANT TO JOIN THE HUFFPOLLSTER TEAM? - We're looking for a full-time, paid intern this summer to help us cover the 2014 election. [Apply here]
HUFFPOLLSTER VIA EMAIL! - You can receive this daily update every weekday via email! Just click here, enter your email address, and and click "sign up." That's all there is to it (and you can unsubscribe anytime).
MONDAY'S 'OUTLIERS' - Links to the best of news at the intersection of polling, politics and political data:
-Another poll finds a majority of Americans want to leave the ACA alone or make some changes rather than than repeal or replace it with an alternative. [CNN]
-CNN's telephone poll of Ukraine finds more loyalty to Europe than Russia. [CNN]
-Scott Clement explains why two Louisiana Senate polls produced very different results. [WashPost]
-Just 29 percent of Chicago voters say they would support Mayor Rahm Emanuel for reelection. [Sun Times via HuffPost]
-Frank Newport is dubious a botched Oklahoma execution will affect death penalty attitudes. [Gallup]
-Paul Ryan earns a YouGov reputation audit. [YouGov]
-John Sides shows how Joni Ernst's ad about castrating hogs earned her news coverage and helped drive up her poll numbers. [WashPost]
-Nate Silver plots the incidence of equality and fairness vs. freedom and liberty in the Democratic and Republican platforms dating to 1948. [538]
-Bill McInturff and Micah Roberts (R) find the political environment more hostile to Democrats than election weekend in November 2010. [POS]
-Glen Bolger (R) sees more bad news for Democrats in NBC/WSJ data collected in 12 states with "toss-up" 2014 Senate races. [POS]
-Andrew Sprung notes the "really important finding" from a new McKinsey & Company online survey: "the still-uninsured don't know about ACA subsidies." [xpostfactoid]
-AAPOR releases a task force report on mobile technologies to conduct, augment and potentially replace surveys. [AAPOR]
-Euroskeptic parties gain in several EU countries. [HuffPost]
-David Axelrod faces challenging poll numbers in the UK. [Guardian]
-The average American thinks he or she is smarter than the average American. [YouGov]
-Tyler Vigen's website posts automatically generated charts of spurious correlations. [TylerVigen.com via Flowing Data]
-Dhrumil Mehta counts TV mentions of Vladimir Putin's chest. [538]