Grace Ministries Church in Saugus, Massachusetts, narrowly escaped destruction last week after a construction blast went awry and dislodged an enormous boulder which rolled straight for the church.
Pastor Rick LeClair was witnessed the whole thing from across the street, and was amazed to find that the boulder stopped just inches from the wall of the church.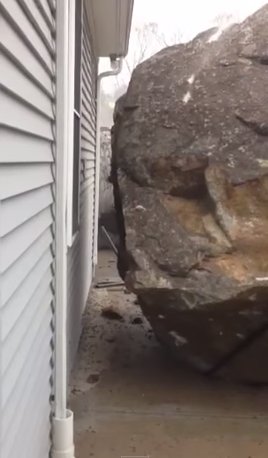 "If it rolled another 12 inches, it would have gone right through the building," he told WCVB News. "This boulder was probably 20 tons."
An excavation company had been clearing the land next door for a construction project when the incident happened. Though a metal railing was damaged the church itself was untouched.
Pastor LeClair believes that divine intervention might have played a part in the church's lucky escape. According to WCVB, the food pantry at Grace Ministries feeds thousands of people each year.
"The Lord just kinda said, 'That's enough,'" LeClair said.
BEFORE YOU GO
PHOTO GALLERY
Religious Good News