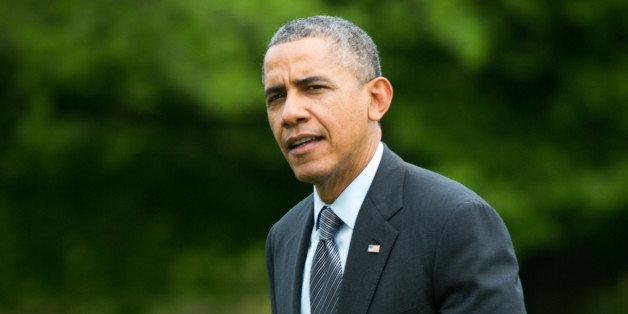 Younger Americans report less trust in government institutions. Is that a good thing? Democrats appear to be doing better among women in 2014 than they did in 2010. And the election "wave" metaphor jumps the shark. This is HuffPollster for Tuesday, May 13, 2014.
KLEIN: 'VERY GOOD' TO SEE YOUNG VOTERS' TRUST IN PRESIDENT DECLINE - Ezra Klein: "A poll by Harvard's Institute of Politics found that young voters' trust in the institution of the presidency has dropped from 44 percent in 2010 to 32 percent now. In other words, Barack Obama's presidency has broken young voters' faith in the presidency. Good. The most damaging myth in American politics is that the presidency can fix our problems….If Millennials are learning that lesson — if they're figuring out that the presidency is oversold in American politics — then that's a very good thing. The first step towards changing American politics is knowing who actually has the power to change American politics." [Vox]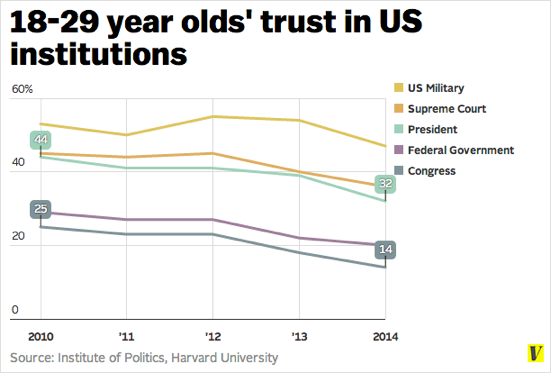 Jonathan Bernstein: "I wish [Klein] was correct about declining belief in a magical presidency, but we should ignore that poll. When I look at his graph, I see loss of trust not just in the presidency, but across the board -- in the federal government, Congress, even the military. It shows that 18- to 29-year-olds are more negative in general than were members of that demographic group in 2010...More likely, these young people have lost faith in President Barack Obama, not the presidency itself -- and they're probably discouraged about the economy. Those sentiments add up to less enthusiastic answers when they are asked questions they have no reason to think about, such as whether to trust the presidency, or Congress, or other institutions." [Bloomberg]
Brendan Nyhan: "I'm not convinced. Trust & approval go down when economy is bad...And it's bad for young people" [@BrendanNyhan with links to Brendan-Nyhan.com and Yahoo]
WOMEN MAY BE MORE DEMOCRATIC THAN IN 2010 - Gerald F. Seib: "All voters are equal, of course, but sometimes some voters are more equal than others. And in 2014, to Democrats, women voters are the most equal of all. More than any other group, women, and college-educated women in particular, appear to hold the key for the party in this year's midterm election….A dive into Wall Street Journal/NBC News polling so far this year offers some mixed signals. When all surveys done so far in 2014 are merged, the results show that 49% of women polled this year say they would prefer a Congress controlled by Democrats, while 39% say they prefer one controlled by Republicans. That 10-point advantage among women stands in stark contrast to the findings among men, who prefer Republicans to control Congress by a 13-point margin. Perhaps as important, those findings among women are better for the Democrats than the results seen in polling in 2010, and similar to the findings in 2012, when President Barack Obama won re-election for the Democrats. And the findings this year are slightly better for Democrats among college-educated women, who have become stalwarts of the party and who tend to show up on Election Day." [WSJ]
IF WEATHER FORECASTERS PREDICTED THE ELECTION - Larry J. Sabato: "Let's adopt a mariner's, or a meteorologist's, terminology to make sense of the situation. Democrats hope for no wave at all: Something akin to 'beach week,' the post-finals getaway that some of my University of Virginia students are celebrating this very instant on the Atlantic seaboard. Beach week for the Democrats, though, is about as likely as the undergrads' dream of putting off adulthood. More realistically, Democrats can hope for fearsome-sounding waves that crash loudly but do little structural damage. Republicans, on the other hand, are rooting for an impressive tidal wave, if not a full-fledged historic tsunami....Put it all together, and the current forecast calls for a wave that's more than a ripple but less than a tsunami – a four to eight-seat addition for the Republicans, with the higher end of the range being a shade likelier than the lower. For Harry Reid, that would be a big-enough splash." [Politico]
MOST APPROVE OF PUNISHMENT FOR DONALD STERLING - Emily Swanson: "Donald Sterling has a long way to go if he wants to convince NBA fans he deserves a second chance as owner of the Los Angeles Clippers, according to a new HuffPost/YouGov poll. More than 6 in 10 fans of the sport are ready to force him out. According to the poll, 55 percent of Americans, including 73 percent of those who say they follow the NBA, approve of the punishments the league has already handed out to Sterling, including a lifetime ban and a $2.5 million fine. Only 28 percent of Americans overall and 18 percent of NBA fans said they disapprove of Sterling's punishment. The survey was conducted before Monday's release of the CNN interview in whichSterling apologized for the racist remarks he had made in a recorded conversation with a former girlfriend, but also tried to deflect blame by saying he had been baited." [HuffPost]
WANT TO JOIN THE HUFFPOLLSTER TEAM? - We're looking for a full-time, paid intern this summer to help us cover the 2014 election. Apply here]
HUFFPOLLSTER VIA EMAIL! - You can receive this daily update every weekday via email! Just click here, enter your email address, and and click "sign up." That's all there is to it (and you can unsubscribe anytime).
TUESDAY'S 'OUTLIERS' - Links to the best of news at the intersection of polling, politics and political data:
-A poll conducted for supporters of Brian Schatz (D) finds him with a wide lead over rival Colleen Hanabusa (D). [HuffPost]
-PPP (D) finds the North Carolina Senate race remaining close. [PPP]
-PPP (D) finds Dan Sullivan gaining in Alaska's GOP Senate primary. [PPP]
-Saint Leo University shows businessman David Perdue (R) continuing to lead Georgia's GOP Senate primary, Michelle Nunn (D) in a tight race with most possible rivals, and Nathan Deal (R) and Jason Carter (D) tied in the gubernatorial race. [St. Leo Senate results, gubernatorial results]
-SurveyUSA also shows Perdue (R) leading, but not by a wide enough margin to avoid a runoff. [SurveyUSA]
-An internal poll for Tom Cotton (R) finds him leading by 2 points, hits NBC/Marist for lack of a likely voter screen. [OnMessage]
-An anonymous business group's poll finds Charlie Crist's lead shrinking. [Miami Herald]
-The Upshot's Senate forecast now gives Democrats a 52 percent chance of retaining the majority. [NYT]
-Reid Wilson shares a chart showing how internet activities mesh with partisanship and voter turnout. [WashPost]
-D'Vera Cohn reviews the Census' difficulty with counting gay marriages. [Pew]
-Support for the European Union is rising in seven European Union nations. [Pew Research]
-Neil Newhouse (R) and Margie Omero (D) produce a Mother's Day survey for the The Walmart Moms Research project. [Parade]
-Nate Silver says the 2014 election is unusually boring. [538]
-Seth Meyers takes a comedic look at what the "other" category in poll questions really means. [The Fix]