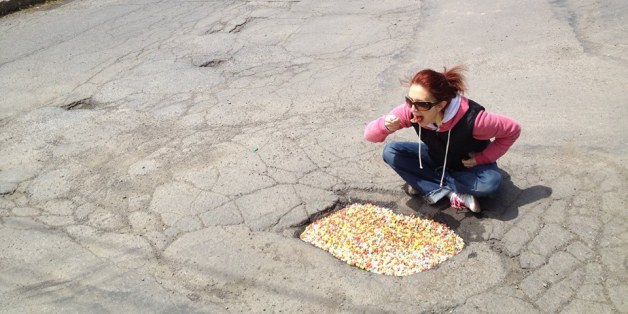 Tired of that humongous pothole at the end of the block? Look again -- now it's a cereal bowl.
In Scranton, Pennsylvania, the glass potholes are half full, thanks to the efforts of The Pop Up Studio. The arts group recently challenged residents to turn the unsightly craters in their neighborhood into pothole art.
Designed as a guerrilla art campaign, Pop Up Studio will accept photos of pothole art until May 16. After that, all contest submissions will be open to public voting on the studio's "Pothole" site through May 31. The first- and second-place winners will receive prizes donated by local businesses, while the third-place champ will be awarded a hug.
"We love to hate potholes. Scranton is bound together as a community in some part by our shared ability to complain about potholes," Valerie Kiser, co-founder of The Pop Up Studio, said in a statement provided to The Huffington Post. "This event keeps that community spirit but loses the complaining. Potholes become something to wonder at."
Kiser and the other founders first came up with the idea to transform potholes into works of art for a 2012 project entitled "Pothole: Positively Filling Negative Space." At the time, the Scranton-based artists filled potholes in a particular neighborhood for a one-night art show. Now, two years later, they've decided to open the art project up to the public.
"The main goal is to see how much creativity you can have," The Pop Up Studio's Ruth Koelewyn recently told NBC Philadelphia.
See some of the recent entries in the pothole art contest below.
PHOTO GALLERY
Pothole Art